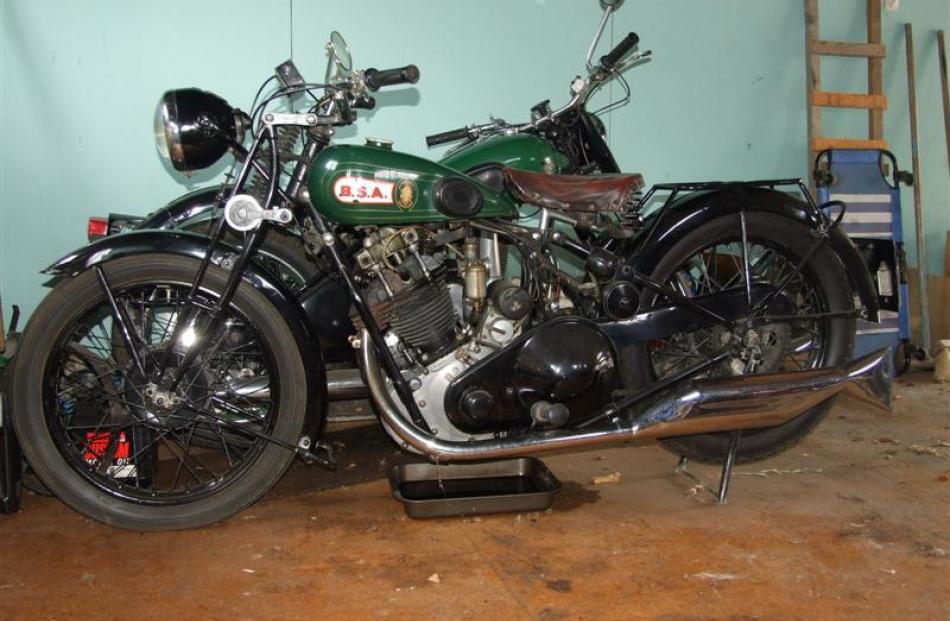 Tucked away in a shed behind his house, Balclutha man Allan Budge works on his pride and joys - a collection of vintage motorbikes and mopeds.
Mr Budge owns five motorbikes and two mopeds, keeping them in the shed which was built to house his bikes and his truck - an area out-of-bounds for his wife and for visitors.
He began collecting them 40 years ago, acquiring the vehicles in varying states of disrepair and making use of his skills as a mechanic.
''I found some, and some found me.''
He was given his first bike - a 1923 Douglas - in the early 1970s by his father-in-law.
''Well I had to marry her [wife Lesley] to get the bike,'' he laughed.
Mrs Budge said she often played on the motorbike as a child but could not remember it running.
''We would 'ride' it as children, but I never remember it going anywhere,'' she said.
The Douglas needed a good deal of restoration to get it running again, taking Mr Budge several years before it was completed.
He stripped the bike, sorted through all the parts, replaced damaged components and repainted them.
For the past five years the Douglas has been on display at the South Otago Museum, in Balclutha.
Later his collection grew to include two BSA vintage motorcycles - a 1930 500cc and a 1951 350cc - a 1973 350cc Honda and a 500cc Ariel.
The Ariel is in pieces awaiting a thorough restoration by Mr Budge.
Mr Budge said he did not favour one bike over the other.
''They all have their own little quirks,'' he explained.
However, after some pressing, he did make two admissions.
''The BSA 500cc sounds the best, and the Honda is the most comfortable, by far,'' he said with a grin.
Mr Budge keeps his motorcycles in running order himself, occasionally riding them in rallies or taking them for a spin around South Otago.
''We do a few rallies now and then, and a group of us here go for the odd run in summer months.''
Two mopeds also feature in his collection - a 1958 Puch and a 1974 Puch.
A moped has pedals, is under 50cc and is unable to go over 50kmh, Mr Budge said.
''I like going for a spin. You go further on a motorcycle and you have more grunt, but you have a lot of fun on a moped - everyone is on the same level.''
Mr Budge had to do a lot of work restoring the mopeds, and his orange 1974 Puch moped is believed to be the only one of its kind in the country.
Earlier this month, Mr Budge joined his fellow South Otago Vintage Car Club members to take part in a moped rally from Balclutha to the Catlins. The rally drew about 28 people and only two mopeds broke down, he said.
Although enjoying taking his motorcycles and mopeds out for a ride, whether with friends or in a rally, there is one ride Mr Budge avoids - parades.
''I try to dodge parades, they get overheated. Both the bike and the rider,'' he laughed.