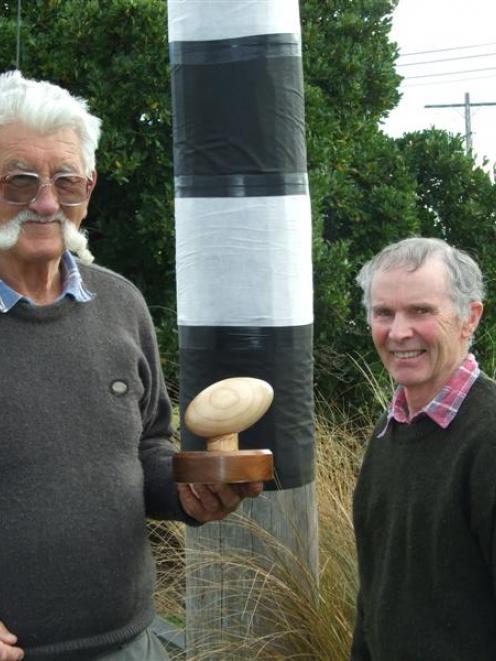 With two World Cup games due to be played in the South on September 10 - England v Argentina in Dunedin, and Scotland v Romania in Invercargill - a group of Catlins residents have planned their own cup celebrations for the following day.
Catlins Promotions have worked with the Owaka Rugby Club and the Catlins Community Trust to create the Catlins Invitational Touch Rugby Trophy on September 11.
The afternoon will begin at 1pm with a junior competition, followed by the open competition for teams of up to 12 people in each.
A third category is for the best-dressed and most supportive supporting team.
A car boot sale, farmers market-style stalls and barbecue will also be on offer.
Catlins Promotions chairman Finlay Abernethy said Owaka local Alex Black had carved two trophies for the competition.
"Alex has put a lot of time and effort into creating these trophies," he said.
Mr Black said he carved the trophy from two separate pieces of wood, each with its own story.
The base was carved from a rail salvaged from the Surat, an immigrant ship which was stranded off the Catlins coast in 1874. The ball was carved from a felled oak tree from the former Ratanui School in the Catlins.
The tree was planted to commemorate the Battle of Trafalgar.
Mr Black said he thought the competition was the "right occasion" to use the wood.
The group has planned another cup event for two weeks later - a big screen viewing in the Owaka Community Centre of the New Zealand v France game on September 24, with a quiz evening and general questions and supper to be held before.
Teams should be registered by this Saturday, but registrations on the day would be accepted, Mr Abernethy said.
About six junior and eight senior teams had already registered.
• Catlins Invitational Touch Rugby Trophy at the Owaka Recreational Ground on September 11, with kick-off at 1pm.