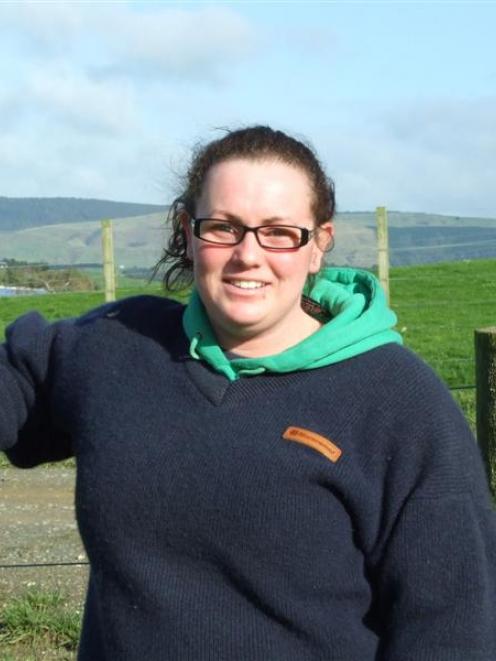 Telford student Trudy Robertson may only be 21, but she's already got a few agricultural awards under her belt.
Miss Robertson has won beef herdsperson honours at A and P shows in Wanaka, Invercargill and Gore over the past three months.
She said it was challenging to watch the animal she was showing and try to keep it calm, while keeping an eye on the judge at all times.
"I grew up seeing my parents and grandparents herding.
They've been really good and taught me everything I know." Miss Robertson, who usually works with South Devon beef cows, breaking in cattle at her parents' 60ha farm near Feilding, has been studying at Telford this year.
She will graduate with a certificate in agriculture tonight and plans to return next year to study for a diploma of rural business. Later she hopes to carry on the family farm.
Miss Robertson started leading calves when she was 10 and began entering A and P shows when she was 11.
"I've been competing for years and the contestants are getting younger now - I'm one of the older ones. The cut-off age is 23 or 25, depending on the competition."
Last year, she won the senior handler's class and was named the Allflex Senior Beef Ambassador for 2010, at the Future Beef New Zealand competitions in Feilding. She has participated in the Future Beef event since its creation in 2007 and said she was "relieved and thrilled" to have finally won the top award.
She also was the senior winner of the New Zealand Young Beef Breeders Herdsperson at the Royal New Zealand Show held in Canterbury in 2009.
Next week Miss Robertson will return to Feilding to practise for the South Australia Junior Heifer Expo, which will be held in Adelaide in July.
"The Australian competition is more full-on. I have to learn a few new things like how to clip cows, but I've just got to do my best."
Clipping took place under the watchful eye of a judge, who checked that an animal's hair was clipped to the same length.