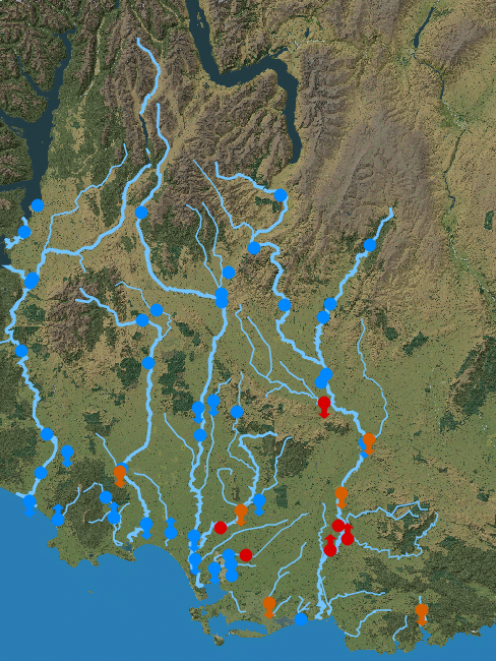 The Southland region is experiencing higher than usual river levels as the recent snow fall has begins to melt.
Gore District Council advised the public via Facebook the melting snow has pushed up river levels, with Mataura River experiencing isolated flooding on River Rd, and the Waikaka Stream flooding part of MacGibbon Rd.
GDC said Wilson Rd was still closed, at around 10.30, due to concerns about the stability of some trees but that Mountain Rd is open.
A spokesperson from Environment Southland said while it wasn't necessarily significant, the water levels had reached a high enough point to trigger the warning.
They said it was mainly used to advise farmers they may need to move stock away from the waters edge.
It affects mostly the lower catchment area, including the Mataura River in various places, the Waimea Stream at Mandeville, the Waihopai River at Kennington and the Makarewa River at Counsell Rd.
This afternoon Environment Southland said Counsell Rd was closed due to flooding as was Mataura Island Titoroa Road from Oakland to Titiwaewae. They believe this closure will remain overnight.
Environment Southland flood duty officer Chris Jenkins said "Due to rainfall and snowmelt from the snow on Saturday, some Southland rivers are running high.
"The worst affected rivers are around the coast and the Hokonui Hills which had the highest falls. Some moderate rainfall has been forecast for the region and this combined with further snowmelt may keep river levels high over the following days.
"We don't consider the event serious, but will continue monitoring the situation."