A World War 2 veteran and a peace advocate celebrated 200 years of living life to the full  in Wanaka recently.
Reg Deason and Maureen Alexander marked their 100th birthdays in style last month. Mr Deason was involved in a daring prison escape after he was captured during World War 2 and Mrs Alexander protested about the use of nuclear weapons in England in the 1980s.
Art keeps Mr Deason in fine form, as he works most days on his detailed and intricate drawings, ranging from architectural monuments to medieval scenes.
Age was not preventing him enjoying his life, he said.
"I'm not feeling 100 at all. I feel good enough to be here a wee while longer."
Born in Essex, he was brought to New Zealand as a child in 1923, travelling on  SS Ionic. He worked as a draughtsman and later a civil engineer for New Zealand Railways, and was an accomplished singer and a founding member of the Dunedin Opera Company.
Although he was offered an opera scholarship in England, he chose to focus on his family - he and wife Kate had six children.
During World War 2 he was part of the 26th Battalion and worked in intelligence, drawing maps.
While in Egypt he was taken prisoner along with other members of his platoon, said his daughter Sue Robertson, of Wanaka.
Despite being blinded when a truck blew up nearby, he was involved in a daring prison escape.
"Before he was taken prisoner he was wounded, and he was actually completely blind.
"His friends one night said to him, 'Reg, if we tie a rope around your waist we want to escape tonight'."
Guided by his fellow soldiers, he was able to escape with them in a German truck, Mrs Robertson said.
"Nobody noticed, but they did have a hell of a time, apparently, being recognised by the other side that they weren't German."
He regained his eyesight long after that but in one eye only, she said.
Most of his artistic drawings were created from memory as he recalled places he had visited, including during extensive travels with his wife.
"I've virtually done the world twice," he recalled.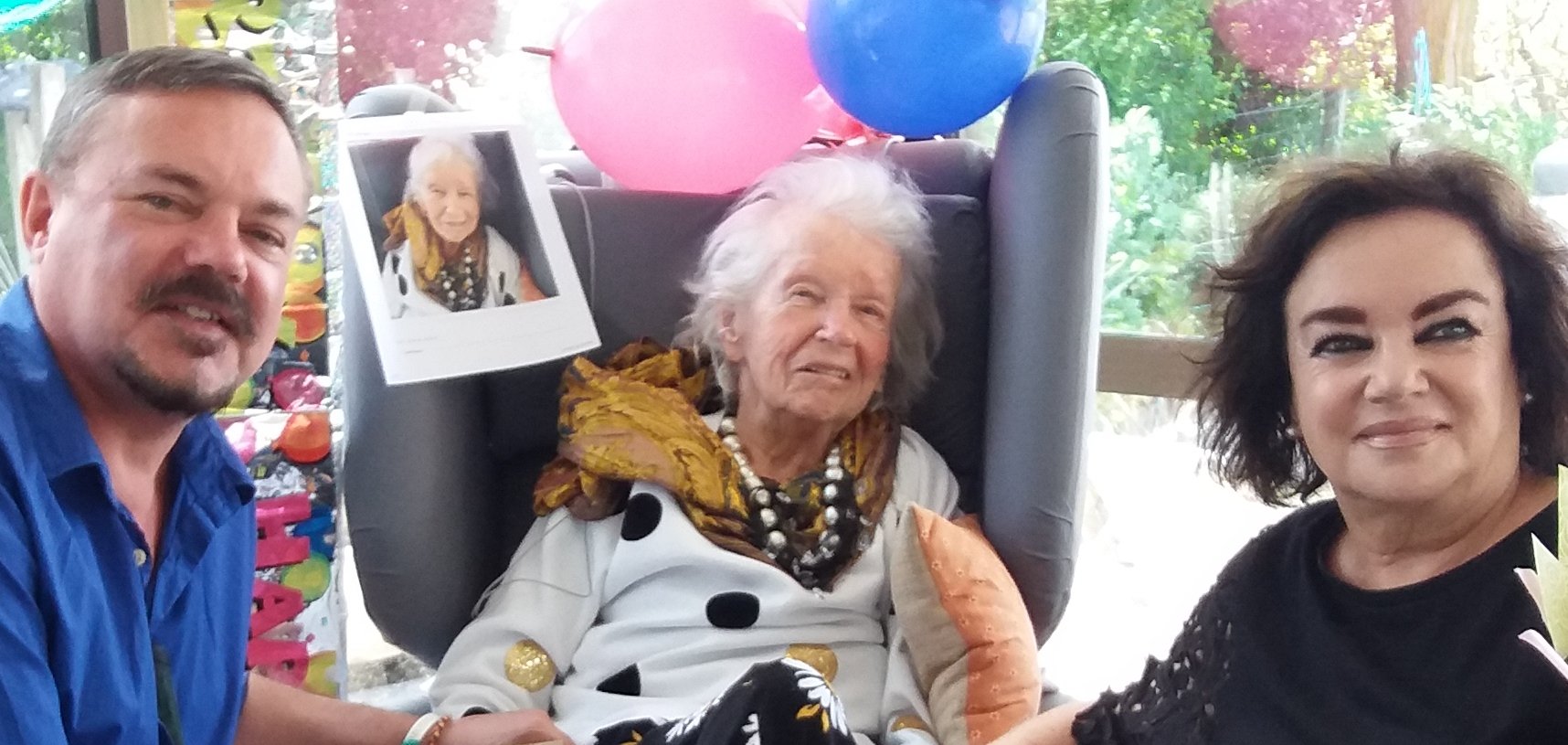 Maureen Alexander marked her 100th birthday  with her daughter Annette Fliegner, of Melbourne, and grandson Sean Fliegner, of Sydney.
She was born in Timaru in 1918 and her daughter said she had radical views for her time.
"My mother was a very idealistic woman - she was very strong-willed and she was very political," Mrs Fliegner said.
She was a "card-carrying member of the Communist Party" and secretary of the Society for Closer Relations with the USSR.
"She still has her socialist beliefs."
She belonged to Voice for Women and the peace movement, and visited the Greenham Common women's peace camp, which protested the placement of nuclear weapons in England during the 1980s.
Her battles on behalf of others continued into her 80s.
While living in Auckland in 2001, she became involved in a struggle to save pensioner housing when the Auckland City Council accepted a recommendation to sell off pensioner units.
Becoming spokeswoman for the Pensioner Housing Action Group, she held out against efforts by then Auckland mayor John Banks to increase rents and sell pensioner villages, finally winning the battle when the newly elected Labour government bought the units, allowing pensioners to stay in their homes.
"My mother was hated by Banks and considered a damn nuisance and stirrer, but Helen Clark as prime minister listened to my mother and the group that was supporting her, and bought the flats, so John Banks lost.
"That was a big battle that she waged in her 80s and won."