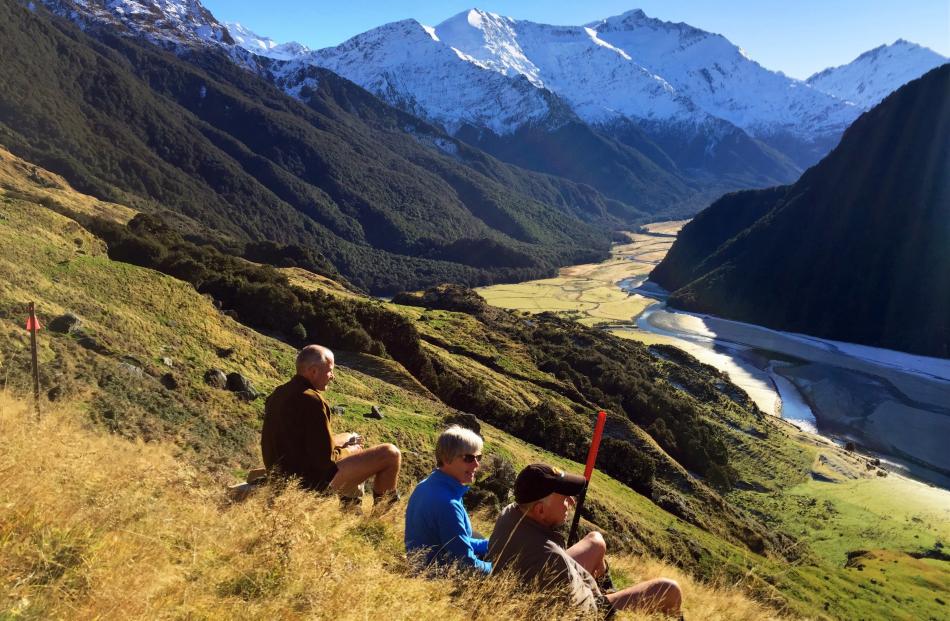 A four-year plan to trap stoats, rats, possums and weasels in the Matukituki Valley, near Wanaka, is music to the ears, writes Kerrie Waterworth.
This summer, for the first time in years, tourist jet-boat operators  report hearing birds in the forests of the Matukituki Valley between Lake Wanaka and Mt Aspiring.
Wanaka-based River Journeys guide James Blunt has been taking tourists up the Matukituki River for six years and said he had really started noticing the birdsong since October.
"We've gone from long periods of nothing to now getting four to six species of birds most trips."
October last year also marked the end of phase one of a four-year operational plan produced by the Department of Conservation for the Matukituki Charitable Trust to trap stoats, rats, possums and weasels.
During that month, trust volunteers carried the last 106 predator traps into the Matukituki Valley, bringing the total number  to 750, that are checked and reset regularly by the volunteers.
The trust was originally set up by Derek and Gillian Crombie, of Christchurch, in 2013.  They had often hiked the French Ridge track and had noticed a significant drop in the number of kea.
Five years on, the kea are back and kakariki have been seen and kaka heard for the first time.
"Doc are reassessing what we're doing and where we are at, and are going to come back with their recommendations, but our next initial focus is cats," trust co-founder Gillian Crombie, of Christchurch, said.
"You hear about people thinking they have seen a panther in the wild but it is just a big black cat. They can be massive," she said.
Fifty cat traps have been purchased and will be implemented in prime feral cat habitat for a week in April and May.
"We are a bit limited in what trap we can use with cats because you don't want to catch kea, so we will use live traps and clear them every day,"  trust project manager Paul Hellebrekers said.
"Cats don't eat 1080 but they do get secondary poisoning if they eat a possum that has been affected, but it is not a way to control cats," he said.
Mr Hellebrekers has a team of 20 volunteers on his database, 10 of whom  were very active. Last season they put in over 2000 voluntary hours.
"We don't do  a lot over winter because a lot of the higher tracks are either covered in snow or prone to avalanche but  we still clear the lower valley traps  about once every six weeks as opposed to once every four weeks."
"It is better off to concentrate come spring and now when young stoats are on the move and ferrets won't be far behind them," he said.
Department of Conservation Wanaka senior ranger Annette Grieve praised the trust's work, saying "what they are doing is invaluable and it complements what the department is doing up there such as the aerial 1080 poison drop operation."
Doc monitoring results for the East and West Matukituki Valleys for rats and mice before the aerial predator control operation carried out in October 2017 were 18% rats and 30% mice respectively. Post operation monitoring results carried out in December 2017 were 0% for rats and 1% for mice.
"This was a very successful operation and confirms that our combined effort with the Matukituki Charitable Trust is making a difference," she said.
Mr Hellebrekers said using traps would never exterminate all the predators from the West Matukituki Valley "but we can keep them in really low numbers, which means that  flora and fauna go really well and we can make sure the birds don't disappear on our watch really".
Mrs Crombie said there would always be infiltration of predators from areas that were not trapped "but you feel you are doing something to save the birds".
"We've got robins up there that were reintroduced about 10 or 12 years ago to a particular area where Doc had three traplines and now they are spreading right throughout the valley," she said.
The river jet-boat guides are also feeling "positive".
"Here in New Zealand, we are in a situation where predators have had a profound impact on our bird population for a long time, but now there is a start and we need to build on that with regard to predator management," Mr Blunt said.
"It's all very positive from our side of things," he said.