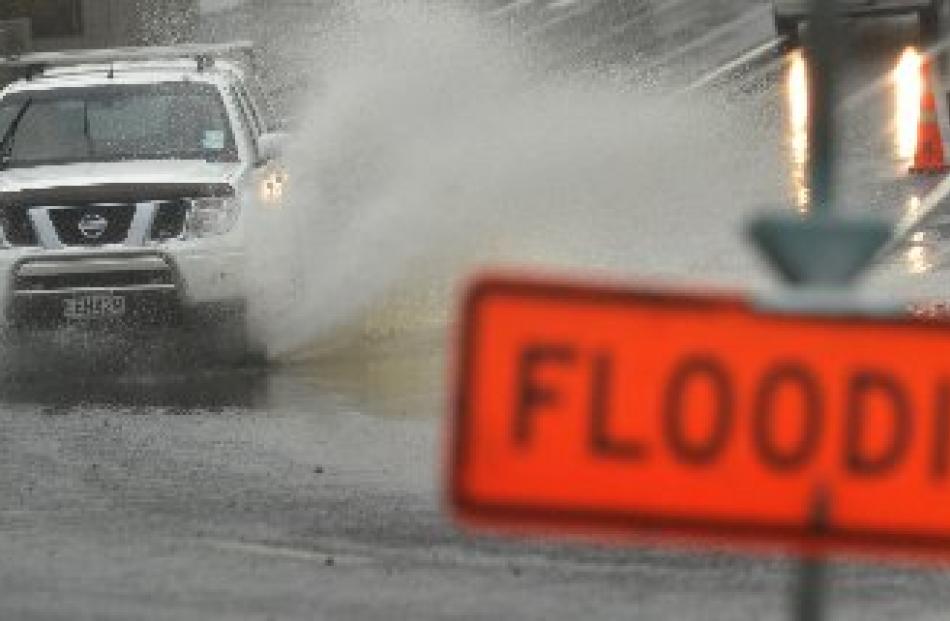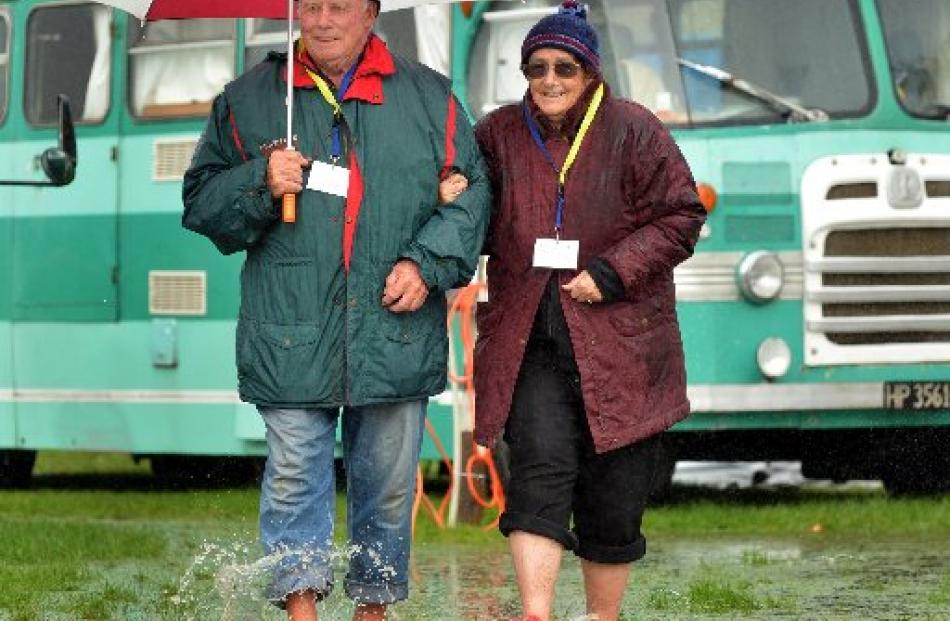 Welfare centres were set up last night in four North Otago towns along State Highway 1 to provide accommodation and food for motorists trapped by floodwaters.
Long queues of traffic built up either side of Maheno when the Kakanui River burst its banks yesterday afternoon, forcing authorities to close SH1 at Maheno.
Waitaki District Council emergency services manager Chris Raine said the welfare centres, accommodating up to 400 people, were established last night when it became clear there would be no way through for vehicles overnight.
The centres were at the Palmerston Child Care Centre, Hampden Hall, Maheno Hall and at St Kevin's College, Waitaki Boys' High School and Waitaki Girls' High School in Oamaru, which have boarding accommodation and kitchens.
Southern District Command Centre deployment co-ordinator Senior Sergeant Brian Benn, of Dunedin, said traffic was initially diverted along the coast road but one of the bridges at Kakanui was single-lane and there were concerns about its structural stability, so it too was closed. SH1 was reopened last night.
''It's been very frustrating for people travelling north and south of Oamaru.
''There's some big queues there. I'm sure that's frustrated quite a few people.''
The heavy rain, which got Easter off to a sodden start, is expected to ease today but Otago Regional Council flood managers say the worst may be yet to come.
The deep low from ex-Cyclone Ita, which sat west of New Zealand yesterday, is expected to weaken and move across the lower South Island tonight.
The MetService lifted its severe weather warnings for Dunedin and North Otago at 5.30pm yesterday but ORC flood managers say many Otago rivers remain high and are likely to stay high for the next few days.
By 8.30pm yesterday, the Silver Stream had peaked at 120cumecs and the Kakanui River at Clifton Falls had peaked at 575cumecs, one of its highest recorded levels.
The Shag River (at The Grange) was flowing at 258cumecs and the Taieri River (at Outram) at 314cumecs at 8.30pm, but both were still rising.
As the day progressed, most district roads in coastal Otago had surface flooding - some serious enough to be closed, including Silverstream Valley Rd and Danseys Pass.
Waitaki District Council Civil Defence public information manager Richard Mabon said a further 50mm of rain was expected on the flat last night and a further 50mm-60mm inland.
''What I'm hearing is that with the bulk of the rain being further inland, there is still a lot of water to come down the rivers.
''Even as the rain is easing slightly, in some areas there is still more flooding to come.''
The Waitaki District Council activated its Civil Defence emergency operations centre about midday yesterday after warnings of more heavy rain during the afternoon and evening, river and stream levels rising, roads being closed and individuals being isolated.
Emergency services manager Chris Raine said about 15 people were overseeing the emergency, with more than 20 rural firefighters, police and civil defence volunteers ''out and about'' in their communities.
Civil Defence would remain activated until at least this morning, when the situation could be reviewed.
The rain caused the cancellation of many events in Dunedin, including several Easter Walks with the Cross.
But it did not seem to bother about 1000 people at the New Zealand Motor Caravan Association's National Easter Rally at the Mosgiel A&P Showgrounds yesterday.
The association held its annual meeting in a large marquee and although the floor was a large grassy puddle, members seemed happy with their surrounds.
Noel and Carolyn Petherick, of Tauranga, arrived in Dunedin on Thursday evening and the weather had been a good excuse to just hunker down in their motorhome.
''We might need a tractor to get us out. It's a quagmire,'' Mr Petherick said.
The forecast for today is looking brighter, with drizzle patches clearing during the morning and becoming fine with variable high cloud.
A high of 18degC is predicted as strong northeasterlies about the coast gradually ease.
The figures
Rainfall for 24 hours (to 8pm yesterday):
Kakanui (Clifton Falls): 70.5mm
The Dasher (Waitaki): 128mm
Stoneburn (Palmerston): 119.5mm
Pine Hill (Dunedin): 111.5mm
Riccarton Rd (Taieri): 40mm
Statistics: RainEffects Ltd