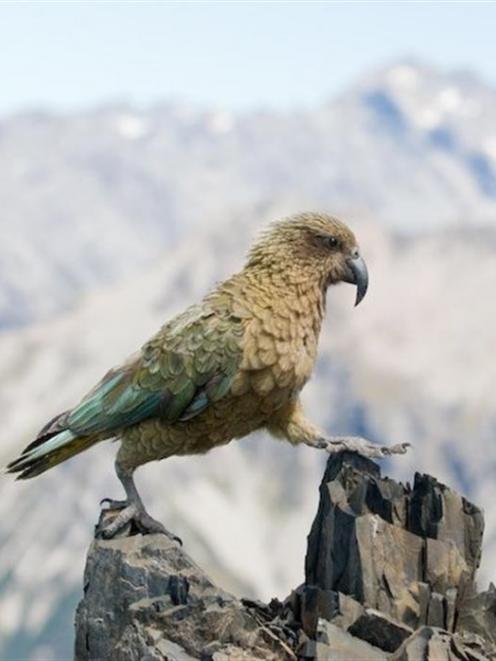 A disappointed Department of Conservation has reported the deaths of seven keas following a recent 1080 pest control operation on the West Coast that was designed to prevent the birds eating poison baits.
The department has vowed to keep trying to find more ways to protect the birds. Tests were being carried out on the birds to confirm initial indications they died from eating the baits, Doc's Franz Josef area manager, Wayne Costello, said in a media release.
The seven birds that died recently were among 38 keas fitted with radio transmitters as part of a four-year programme to assess the risks and benefits of 1080 operations on kea populations.
They follow seven kea deaths reported in the Franz Josef and Fox Glacier area in 2008, with the possum-killing 1080 poison pinpointed then as the most likely cause of death.
The 2008 deaths added grist to the mill of 1080 opponents arguing the poison threatened wildlife, dogs, deer and humans but they did not stop the 1080 drops continuing.
Then conservation minister Steve Chadwick maintained the poison was still the best tool for protecting native forests from the ravages of possums, rats and stoats.
Doc started research programmes that, among other things, investigated bird-repellent baits and sought to identify a bait that was unpalatable to keas.
Mr Costello said the recent kea deaths were "very disappointing".
"We know they are inquisitive birds but believed that a new baiting protocol would be successful in keeping kea safe. Doc will now be assessing the results and taking them into account for future operations," he said.
Doc staff were checking for deaths in other bird species but had not found any.
The recent aerial 1080 operation was three years in planning and jointly run by the Animal Health Board and Doc.
It covered 30,000ha, including the South Okarito kiwi sanctuary, North Okarito forest, and a large forested buffer zone around Franz Josef township.
The operation intended to protect New Zealand's rarest kiwi - the rowi - from rats, stoats and possums, as well as protecting local farms from the threat of bovine tuberculosis, Mr Costello said.
Tracking work showed up to 60% of kea nests were attacked by predators.
The research programme also monitored nests through the breeding season to assess whether safer conditions for kea chicks outweighed risks to individual birds, Mr Costello said.
Doc would be investigating whether any specific circumstances in the operation could have led to the bird deaths.
It seemed likely the more open nature of the North Okarito forest was a factor, Mr Costello said.