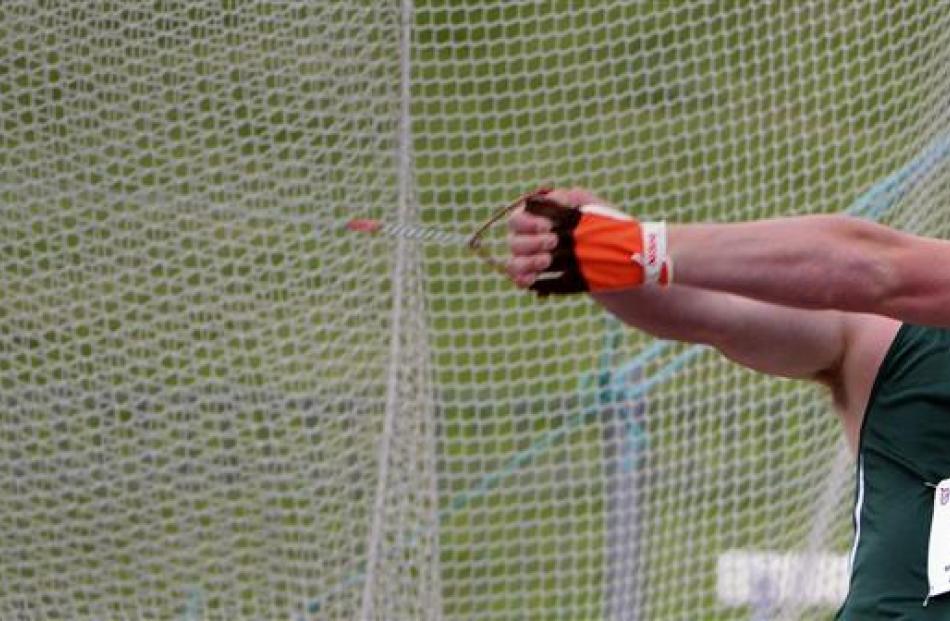 The technology could not cope. Matthew Bloxham (Orewa College) beat the laser beam at the Caledonian Ground last night.
Bloxham (16), the rising star of New Zealand's throwing world, smashed a 25-year old senior boys hammer throw record at the New Zealand secondary schools championships.
He won the event with a throw of 73.47m, beating the record Doug Mace (New Plymouth Boys' High School) set in 1987 by 6.29m.
Defending champion Alex Fafeita (Wairarapa College) was runner-up with 64.83m and Todd Bates (Taieri College) improved by 3m when coming third with 57.45.
Athletics Otago throws official Steve Smith said the laser beam was set at 70m and Bloxham beat it twice. It was the longest throw any athlete had thrown in New Zealand with any implement weight.
''It was the first time the laser beam hasn't worked,'' Smith said.
''We had to go back to the measuring tape.''
Bloxham twice beat his own New Zealand M16 and M17 record of 71.33m with the 5kg implement.
''I'm very happy with that,'' Bloxham said.
But he was given the jitters when he had fouls with his first two throws and needed a legal throw to qualify for the final three throws.
''I was so scared,'' he admitted. ''I just had to get my third throw in.''
He played it safe and let fly after just two spins to make sure of qualifying for his last three throws.
His sequence of throws was: foul, foul, 61.26m, 72.74m, 73.46m, 69.63m.
Bloxham was not completely satisfied with his big throw.
''I didn't think it was too good technically,'' he said.
''I lost it on my third and only managed to get my final turn under control. I've definitely got more there.''
Bloxham has qualified for next year's world youth championships in the Ukraine in the hammer throw and is keen to also qualify in the shot put today.
Alexander O'Neill (Rosmini College) missed the junior boys hammer throw because his flight to Dunedin was delayed by the tornado in Auckland.
He was given permission to compete in the senior boy's event and threw 51.13m - good enough to claim the gold medal in the junior boys event.
Because of the backlog of flights, O'Neill only arrived at the ground five minutes before the start of the senior boys event.
Ben Power (Hutt International) was second in the junior boys event with 47.60m and Bradley Tarlton (Taieri College) had four personal-best throws when coming third with 46.21m.
Lauren Bruce (Craighead) won the junior girls title with 48.92m from Courtney Martin (East Otago) 42.71m and Tessa McNab (Craighead) 41.23m.
Montaya Wharehinga (Wainuiomata) won the senior girls title with 47.43m from Danielle Botha (Waikato Diocesan) 46.90m and Ella Pilkington (Westlake Girls) 45.16m.