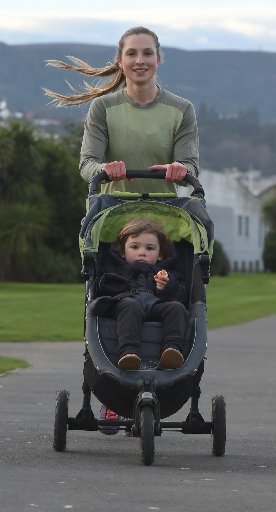 Motherhood has not stopped Dunedin electron microscopist Sharon Lequeux from becoming one of the top five-ranked women in the Dunedin Marathon tomorrow.
A two-time Coast to Coast Longest Day competitor, Lequeux (28)  is frequently seen during the morning and late afternoon commute along Portsmouth Dr.
She runs with her daughter, Poppy, in a pushchair, covering the 7km between her home in Tomahawk and the  university each day.
Tomorrow will be her second time on the Dunedin Marathon course, having run it as her  first marathon in 2013, completing the distance in 4hr 15min.
Five months later she contested the Coast to Coast one-day multisport race, completing that event in 17hr 52min 18sec.
But her next major challenge was becoming a mum.
She took part in  a couple of low-key events but this year she has burst back on to the scene in impressive fashion, giving witness to her potential and endurance capabilities.
Lequeux began the year by returning to the Coast to Coast event, and despite navigational problems along the way, slashed 1hr 15min from her time of three years earlier to complete the journey in 16hr 37min 28sec.
Three weeks later she lined up in the Taupo Iron Man, completing the full course in 12hr 17min.
She was back in action in April, finishing third in the open women's section of Dunedin's 28km Three Peaks mountain run.
As a build-up to tomorrow's marathon, she clocked a personal-best time, when she finished the Gore Half Marathon in 1hr 31min. Among a string of other events this year she has also featured in the South Island Half Marathon Championship at Lake Hood and mixed it  with race leaders to finish fourth at the recent 10km Otago Road Championships.
''That was a bit of a reality check,'' she said of her Otago Road Championship race, realising she had perhaps short-changed herself with pace and endurance training in her preparation.
''I think I need a bit of a kick in the rear, to get some longer training runs in.''
With the late withdrawal of defending champion Mel Aitken through injury, Lequeux is down-playing her own prospects tomorrow, seeing Christchurch Marathon champion Hannah Oldroyd, Sarah Dallas (Wellington) and Dunedin's Bella Bloomfield as top contenders to lift the open women's marathon crown.
''I don't think there's ever been such a strong women's field in the Dunedin Marathon. All three of those runners could run sub-three hours, so it will make for an exciting race.''Another battle appears on the cards in the open men's field.
Defending champion Jonah Smith and 2012 champion Jason Palmer could well be locked in a stride-for-stride battle with course record holder and 2010 champion Sam Wreford (Timaru), along with Queenstown's Jason Hall, Sam McCutcheon (Wellington), and Canterbury's Damien Cook.
The half-marathon and quarter-marathon events remain wide open and could be determined by late entries. Among those expected to feature  for the half-marathon  are Dunedin athletes Shauna Pali and Shireen Crumpton in the open women's field while in the half-marathon open men's field Dunedin's Kirk Madgwick, Robbie Johnston, Jake Jackson-Grammer and Matt Maloney should all  be to the fore.
In the quarter-marathon field, 2016 Otago road champion Sam Bremer is an early favourite.
The marathon starts at Harington Point at 8am, the quarter-marathon starts at Sargood Centre at 9.15am and the half-marathon starts at 9.30am. 

By Wayne Parsons