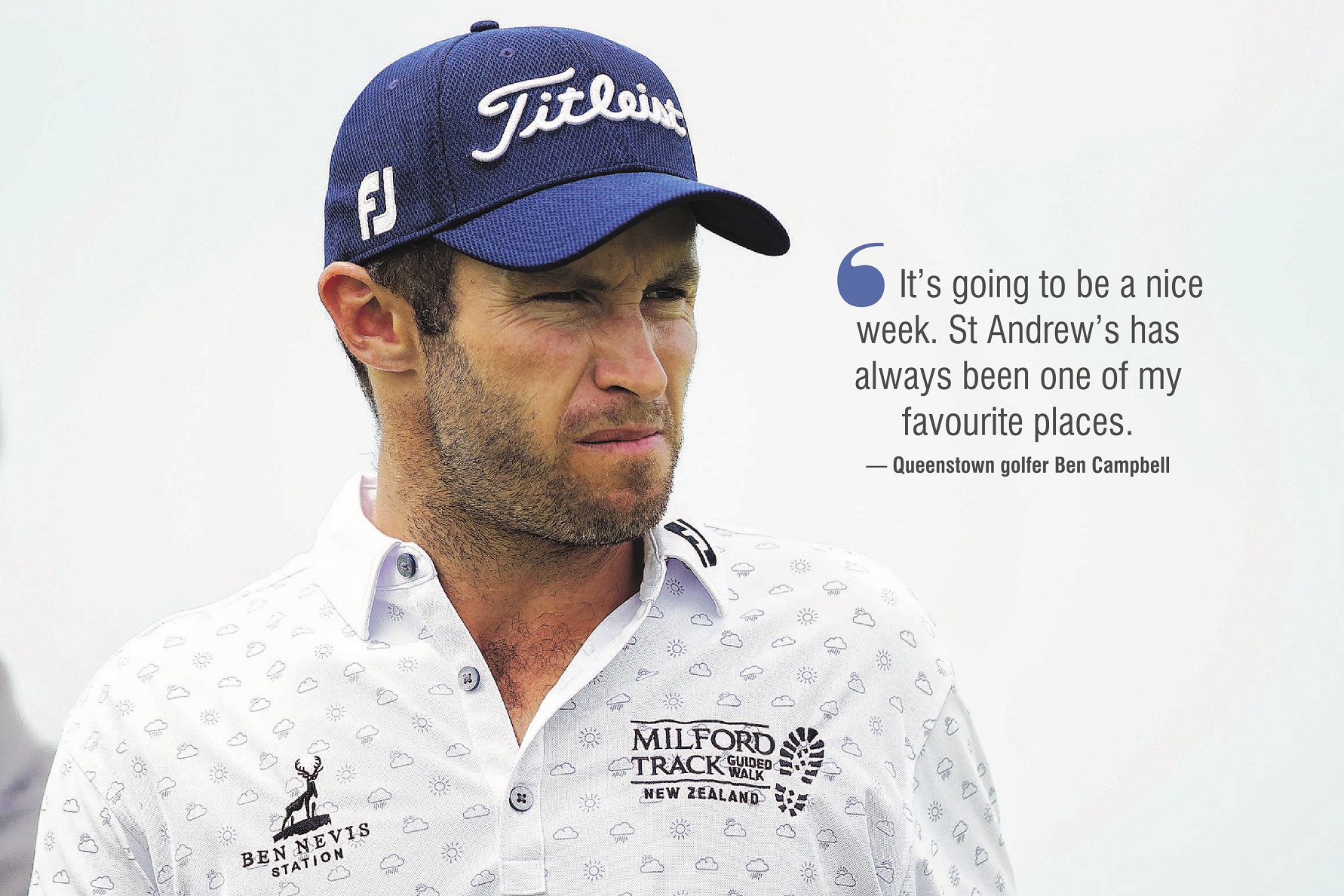 Ben Campbell is off on the adventure of a lifetime - and he will have plenty of support with him.
The Queenstown golfer flies to the United Kingdom on Monday to prepare for his first appearance at a major.
He qualified for the 150th British Open - at St Andrews, the home of golf, no less - by finishing runner-up in a qualifying tournament, the Vic Open, in February.
While Campbell is highly focused on playing well, cashing as big a cheque as possible and potentially opening up even more opportunities at the elite level, he has not lost sight of the fact this will be a special experience.
"I was at St Andrew's just three weeks ago," he told the Otago Daily Times yesterday.
"All the stands are up, the course is taking shape, and it was nice to have a look around the course.
"It's going to be a nice week. St Andrews has always been one of my favourite golf places. I was lucky enough to play the St Andrews Links Trophy three years in a row as an amateur.
"It will be a great event. It's such a big deal, and the whole town has a massive buzz to it."
Campbell will not lack for support in the gallery.
His father, Brian, and a close friend are heading to Scotland for the July 14-17 Open, and his coaching-physio team will also be on hand for the tournament.
"I've also got a couple of families who have been like second parents to me around the world. I stayed with a family in Australia for a couple of years, and another family in America for two years, and they will be there.
"We're renting a house in St Andrews, and it will be great having people who have been in my camp."
Perhaps the No1 member of the support staff is Campbell's caddy.
Mike Howell, an Australian-based builder who was originally from Dunedin, has carried the 30-year-old golfer's bags and provided a constant source of advice for about five years.
"About a month before the Vic Open, I was staying with Mike. He said, 'I've got one goal, Benny. I really want to caddy in a major.'
"So it's cool how it's turned out. He's really fizzing for it.
"Pro golfers play 30 weeks a year or something. You need to have someone on the bag who you get on well with, because you're spending seven hours a day with them.
"When you're not playing well, you need a caddy who knows how to read you. It's not an easy job, and they're a huge part of the team."
Campbell played much of his early golf in Wellington and said he would be quite happy if St Andrew's turned on windy and grey conditions.
And the dream playing partner?
"Tiger would be pretty good. I won't be paired with him on the Thursday or Friday, but making the cut and being paired with him wold be pretty special."
Campbell and team fly to London then head to Liverpool, for a couple of practice rounds at Royal Birkdale, before heading to Scotland.
He has just had a spell in the UK to get in some extra links experience and think about the shots he will need to make to succeed at the Open.
It has been a solid start to the year for Campbell, who is 58th on the Asian Tour order of merit, despite missing a couple of big tournaments with Covid.
"I've been close to wining a few times but had a couple of Sundays where things haven't quite gone my way.
"I had a great chance to win in Japan. I made a shot down the 17th in the final round, thought it was on the fairway, and we never found my ball."
He has also been dealing with a minor recurrence of a hip issue - something that, along with a back complaint, sidelined him for 18 months after surgery in 2019.
The good news is he is feeling 100%.
"I played in England and it wasn't feeling great that week.
"It was just niggly enough, so I made call to fly home and see the team back here at Remarkables Physio. Pete [Forch] has looked after me for a few years and he's coming to St Andrews."
Campbell will come back to Queenstown after the Open to have a short break before a hectic few months.
He will play the Indonesia-Singapore-Korea swing on the Asian Tour in August. Then, after a two-week break, he will have four consecutive tournaments.
Success at the British Open could be life-changing, but there is also the prospect of the Asian Tour linking with the Saudi-backed LIV series and some serious money to be made.