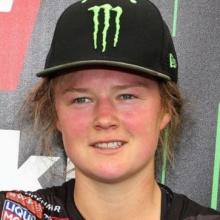 The safest place to ride is out in front and that is where Courtney Duncan plans to be when she chases glory in Turkey next month.
The Dunedin rider is two races away from achieving the dream she first had as a child.
The 23-year-old is leading the Women's Motocross World Championship by a comfortable margin.
She has won seven of the eight races this season and has 189 points of a possible 200.
German rider Larissa Papenmeier is 23 points behind in second place. Dutch rider Nancy van de Ven is a further three points back in third.
There are still 50 competition points on offer, but as long as Duncan can stay on her bike and out of trouble, she should be able cruise to her first title when the championship resumes in Afyonkarahisar on September 8.
Duncan, of course, is not planning on drifting to the finish line. That is not how she operates.
She will go as fast as she can - as always. And to be fair, the best place for her to be is at the front of the field where the chances of getting into a scrape are much reduced.
"I have got a pretty good lead going into this final round," Duncan told the Otago Daily Times.
"It is always nice to have a bit of a gap just in case something goes wrong. But I'm not going to approach it any differently to how I have the previous rounds.
"I want to go there and put in another dominant performance."
That "just-in-case" scenario is something with which Duncan is awfully familiar. Her stunning debut season was derailed when she crashed into a photographer.
A controversial jury decision snuffed out her chances two years ago. And she could have almost coasted to victory last year but had to pull out of the series with a foot injury.
For the buoyant young woman who grew up in Palmerston racing against the boys, the last cruel knock proved a lot harder from which to rebound.
While she remained confident in her ability, something did not feel right.
"I definitely needed to change something after last year. I've always said I was stuck in a rut and I needed a fresh start.
"Kawasaki was keen on me when I was at my lowest, so hopefully we can bring the title home for them.
"It has just been an awesome year. I can't even describe it.
"It is so much fun. I'm in a great environment and I love the team, I love the bike and I love the brand. Just from day one it has felt like family."
Duncan is commuting back to New Zealand from her base in the United Kingdom more often and that has helped her stay fresh. She is happier and riding as fast as ever.
And that elusive championship title is now closer than ever.
"It has definitely been something I've wanted for a long time. I mean for long as I can remember, honestly.
"I have had a few close calls over the last few years but haven't quite been able to clinch it.
"It would mean a lot to me. It would be even sweeter having had those setbacks and those tough times over the years.
"Even more so, I think it is going to be nice for me to repay the people who have continued to believe in me and stuck behind me and supported me through the good and bad times."