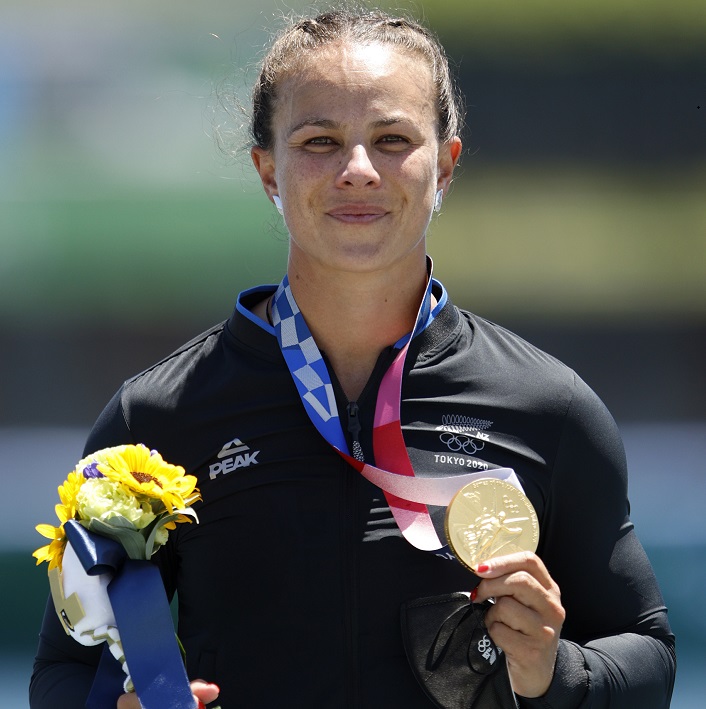 Lisa Carrington completed the most astounding 90 minutes of an already neon-lit career when she teamed with Caitlin Regal to win the K2 500m.
Having blitzed all pretenders to her K1 200m crown at shortly after 2.30pm (NZT), Carrington dried herself off, draped a third Olympic gold medal around her neck, checked that the New Zealand flag ran true up the pole then went to find Regal at the start line.
After winning their semifinal earlier in Olympic best time, the pair were always going to be in the hunt for a medal but there were questions as to how Carrington would back up from her K1 final. It pays never to question a champion.
"There's always a plan but it's a different thing to execute it," Carrington said.
"I'm just so fortunate to have Caitlin as an amazing teammate. I'm super-proud of her.
"To get an Olympic medal is just so special. I've been lucky to do it as an individual, to do it with a teammate. To think we're able to be top of the podium is just so special."
It wasn't even close, frankly. Carrington and Regal took an early lead, were ahead of the Poles by .69s at the 250m and cruised, if that term can ever be used in this furious sport, to victory in an Olympic best time of 1m 35.785s.
Poland's Karolina Naja and Anna Pulawska finished .968s behind in silver with Hungary's Dora Bodonyi and Danuta Kozak third.
Carrington, the 32-year-old Ohope paddler, is now among our most prolific Olympians. Her five medals draw her level with fellow kayakers Ian Ferguson (four gold, one silver) and Paul MacDonald (three gold, one silver, one bronze), and equestrian Mark Todd (two gold, three bronze). Her four golds are matched only by Ferguson.
With the K1 win she joined rower Hamish Bond as the only New Zealanders to have won three gold medals in consecutive Olympics. Bond achieved the feat on Friday when he was part of the winning men's eight.
Like Carrington, the 29-year-old Regal (nee Ryan) comes from a surf lifesaving background, having cut her paddling teeth at Red Beach on the Whangaparāoa Peninsula. Although it is her first Olympic medal, Regal and Carrington won gold in this event at the 2017 world champs in the Czech Republic.
In the K1, Carrington jumped quickly on the Sea Forest Waterway course and never looked like being headed as she won in an Olympic best 38.120s.
Spain's Teresa Portela was second in 38.883; Denmark's Emma Jorgensen third.
Carrington's K1 gold came after wins in the same discipline in London and Rio de Janeiro. 
She earlier left others in her wake, powering through her K1 200m and K2 500m semifinals to set Olympic best times.
Carrington won the K1 200m semifinal with ease at 12.30pm (NZ time), leading from start to finish and posting a time of 38.127sec to smash the previous Olympic best time by 1.7 seconds.
Later, she and Regal were also first in the K2 500m semifinal B, claiming another Olympic best time of 1min36.724sec.
Compatriots Teneale Hatton and Alicia Hoskin were the slowest in the semifinal A race, with a time of 1min44.119sec, but managed to claim seventh after the Slovenian team capsized right in front of the finish line.
Hoskin and Hatton finished sixth in the B final, and will team up with Carrington and Regal in the K4 later in the regatta.
Hopes New Zealand could celebrate a fifth gold medal at Tokyo yesterday were scuppered by low winds on the sailing course.
Master yachtsmen Blair Tuke and Peter Burling lead the men's 49er class with just the medal race to go, but it was postponed until today.
Queenstown weightlifter Laurel Hubbard last night created history as the first openly transgender athlete to compete at the Olympics.
 - additional reporting ODT Online