Home conditions played into the hands of the New Zealand competitors at The North Face Frontier two-star freeride competition at the Remarkables skifield yesterday.
Freeriding is a style of snowboarding or skiing performed on natural, ungroomed terrain. Competitors are judged on five criteria: the difficulty of their line or ``course'', their fluidity through the course, their control, difficulty and style of jumps, and their technique.
The freeride competition will continue later this week with a four-star competition also being held at the Remarkables.
In the men's ski competition, first and second place went to New Zealanders Andrew Wylie and Craig Murray with fellow Kiwi Jamie Adams also qualifying for another freeride event later in the week.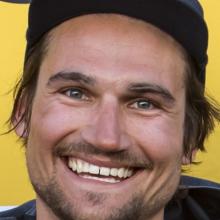 It was a particularly special day for Wylie who has been skiing at the Remarkables for more than 20 years.
``I've been skiing here for 22 years, and it's always been a dream to win on my home mountain, and today that came true,'' he said.
In the women's ski competition, New Zealander Jessica Hotter was able to secure herself a place in the four-star competition, with a second-place finish.
Freeride competitions are rated on a one to four-star system depending on difficulty of the terrain and level of skiing needed. Four is the most difficult.