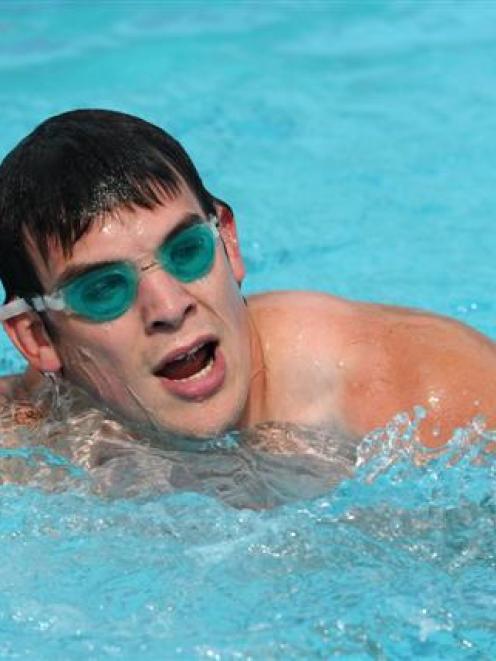 Highlanders flanker John Hardie loves his horses but he won't be seeking to have some special shoes fitted on his feet this season.
Hardie, who enjoys dabbling in racehorse ownership when he is not busy with rugby, has his eyes focused on the third phase of his professional career and is confident his troublesome toes will stand up to the challenge.
He has been the eager rookie, waiting for his opportunity to shine. He has been the break-out star, hobbled by one of the less glamorous injuries.
Now, the pride of Dipton is determined to get back into the form that had some tipping him for an All Black jersey. Given Richie McCaw is on sabbatical, it is the perfect time for a No 7 to shine.
Hardie (23) has come through two surgeries for his turf toe problem, which emerged after he had set the Super 15 alight for the Highlanders during the first few weeks of last season.
''For me, it was just bad luck,'' he told the Otago Daily Times.
''It happened without warning. Just bang, got a fracture, and I had to have surgery.
''It was the plate on the bottom of my toe. Not very big, but I had to get it fixed. It was pretty painful. You couldn't really play with it.''
Hardie hoped the first time under the knife would be the last, but he was to suffer further frustration later in 2012.
He returned to action for Southland and the injury recurred.
''I probably pushed things a bit far. There was a wee tear in there and it needed some more surgery.
''I learned from that. Now I know exactly what it feels like. It tests your character when you go through that sort of stuff.
''It was frustrating. But it gives you a good perspective from the outside. It makes you very hungry to get back into it.''
The injury has been carefully managed and Hardie has slowly eased back into training. He is getting close to full contact work and is confident he will be right for the pre-season campaign.
While the Highlanders were lamenting the loss of influential midfielder Tamati Ellison to a shoulder injury this week, there remains a genuine sense of buoyancy in the camp.
The Joseph revolution has resulted in a squad packed with talent, experience and depth. Expectations are the highest they have been in over a decade.
''We haven't really talked about it a lot but I think top four is probably an aim for us,'' Hardie said.
''Everyone is keen to get some good results. It's pretty exciting. We've got really good players coming in and the team is feeling pretty good.''
Two of the newcomers are as big as it gets in New Zealand rugby. Hardie can't wait to see Brad Thorn and Ma'a Nonu in Highlanders colours.
''I think I might be a little bit starstruck when they turn up. They're guys I watched as a kid and now they're in my team.
''Brad, especially, is such a great professional. It will be great to be around him and learn from him.''
Hardie is no rookie himself. He is preparing for his fourth season of Super rugby - all with the Highlanders.
He had to wait his turn in 2010-11 as Alando Soakai held top ranking on the side of the scrum, but last year, before the toe troubles, he responded in style to being given a starting chance.
''I had to grow up a bit and realise it was a big opportunity for me. I made a few changes - nutrition, training, work off the field, everything.
''That really helped me and I think I saw the benefits. Things were going well, for me and the team. It's easier to play good footy when the whole team is going well.''
Lumsden-born, Hardie was raised in Dipton and his family still farms in the district. He enjoyed getting home for Christmas, then popping over to Stewart Island to catch some blue cod.
His father, Russell, played 47 games for Southland between 1971 and 1975, mainly in the midfield. The Hardies are typically passionate Stags fans, and are also enjoying trips to Dunedin to watch the Highlanders.
John Hardie's new passion is horse racing. He owns a small group of trotters with former Highlanders, Otago, Southland and North Otago midfielder Matt Saunders, who works with trainer Andrew Armour at West Plains, just out of Invercargill.
The pair just sold 7yr-old Cullen's Finest (four wins), which was due to race at Forbury Park last night, and they are keeping an eye on a 2yr-old awaiting its first race.
''I just picked it up when Panel [Saunders] started getting into it. It's a lot of fun,'' Hardie said of his racing involvement.
''It can be a tough industry but I really enjoy it. Maybe something I could look at after rugby.''
---
John Hardie
The breakaway
Age: 23.
Position: Loose forward.
Height: 1.83m.
Weight: 103kg.
Club: Star.
Highlanders
Number: 162.
Debut: v Crusaders, 2010.
Caps: 25.
Tries: One.
Southland
Debut: v Manawatu, 2008.
Caps: 44.
Tries: Six.
---