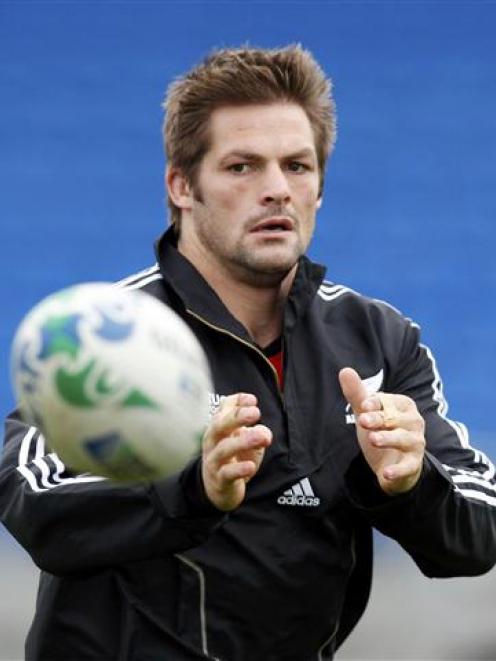 New Zealand's Richie McCaw will miss their rugby World Cup game against Canada tomorrow because of an ongoing foot problem but the skipper is confident he will be available for the knockout stages of the tournament.
First-five Dan Carter will take over the captaincy from McCaw, who has been replaced by flanker Victor Vito for the game in Wellington.
McCaw missed part of this year's Super rugby season due to the injury and had surgery in an attempt to fix the issue.
"My foot is a bit niggly. It's something I have managed all the way through," McCaw told reporters in Wellington on Saturday ahead of their final Pool A match, which the All Blacks are expected to win easily.
"If I had to play tomorrow in a knockout game I would have, but the decision was to make sure I'm right next week."
The All Blacks have already secured top spot in Pool A and a quarter-final berth with wins over Tonga, Japan and France. They will play the runners-up in Pool B, likely to be Argentina, in the quarter-finals next week.
"I probably could have played (against Canada) but it's the cumulative effect where it might take an extra day (to recover) because of the extra load I have had," McCaw said.
"You play at times with niggles every week, it's just the reality of every player, you play with those things.
"(But) there is a difference between tough and playing because you're a bit sore and being stupid.
"At times you just play when you can do your job properly without doing anything silly. But there comes a point where you don't play because obviously you can't do your job."
The match will be the second McCaw has missed at the World Cup after he was a late withdrawal from the side to play Japan but he was confident he should be available for every game through the knockout phases.
"You haven't got a crystal ball but if it has been like it has all week then it should be okay (to play three successive knockout games if needed).
"It's something I have dealt with up till this point and it's something I have to deal with.
"I've had my head around it for a long time and if you're going to play it's something you have to manage."