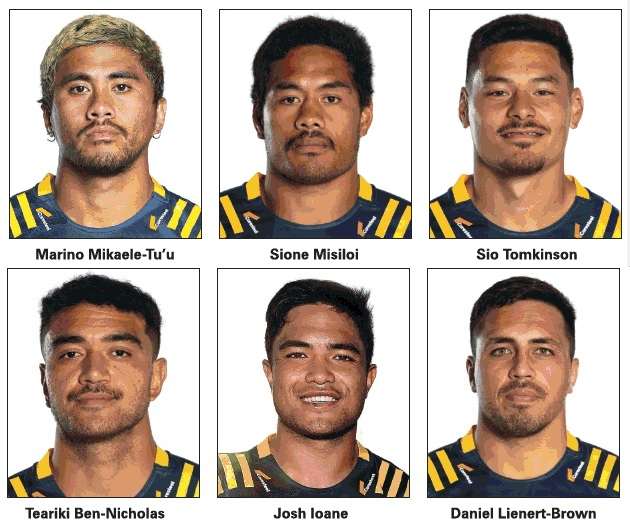 A noisy return home from a late night out is believed to have led to six Highlanders players being stood down for a game.
Highlanders coach Tony Brown said yesterday six players from the squad would not be available for the game against the Crusaders tomorrow night.
The players are Sione Misiloi, Josh Ioane, Daniel Lienert-Brown, Marino Mikaele-Tu'u, Teariki Ben-Nicholas and Sio Tomkinson.
Ioane, Mikaele-Tu'u and Tomkinson all played for the side last week, while Daniel Lienert-Brown is out with a broken arm. Misiloi and Ben-Nicholas are yet to play a game this season.
It is understood the players went into the Dunedin city centre last Friday night after a function to celebrate Highlanders co-captain Aaron Smith playing his 154th and record game.
After a loud couple of hours in the city centre, the group went to Ioane's house, and shortly after, a noise complaint was made.
Noise-control staff were called and police also attended. The Highlanders were later informed of the incident by the police.
The Dunedin City Council could not confirm late yesterday any details of the incident.
No charges were laid but the Highlanders moved swiftly to make the decision to dump the players.
Brown said yesterday he was very quick to make the decision.
"They have let the team down through their standards — broke the code that we live by and all round their professional habits," he said.
"They have let their standards slip around preparation."
Brown said he was disappointed, as was the whole organisation. He declined to give any details on the incident, saying it was an in-house matter.
The players had to earn the right to get selected again, he said.
"We will see how they go for the rest of the week at training and next week. They're always sorry, but we have moved on. They have moved on."
In June last year, partying Highlanders players and associates had a night out in Queenstown — causing damage to an apartment complex they were staying in, leaving guests feeling intimidated and one man in police custody. The group included at least four Highlanders players, who had travelled to Queenstown on their bye week.
Ioane was dropped by Otago last year after breaching team standards.
Highlanders chief executive Roger Clark could not be contacted yesterday.