Fletcher Building has confirmed there were no active alarm systems at the SkyCity Convention Centre in Auckland and the fire that turned into an inferno was first spotted by a supervisor.
The massive blaze has continued to burn since it started yesterday afternoon - despite firefighters using 12 million litres of water fighting the fire.
Massive flames and black smoke continue to pour from the site with more than 80 ground-based firefighters using high-powered hoses to try to quell flames.
Fletcher Building CEO Ross Taylor told reporters today that the fire started where blowtorches were being used on bitumen to seal roof joints. The company remained committed to completing the $700m convention centre.
SkyCity boss Graeme Stephens said the fire was "absolutely devastating".
He said he was at the convention centre site yesterday morning in a hard hat checking out progress.
"We were literally signing off hotel rooms and you could see the internal shape... I left the site very buoyed, very excited."
Hours later he got the call about the fire.
Stephens thanked front line emergency services staff and acknowledged their "immense efforts" in fighting the fire.
Meanwhile, firefighters say they're trying their best to get the fire under control after it broke out around 1pm yesterday. Twenty-six appliances are on the scene with laddered hoses trying to reach to the top.
But fears are no longer held that a large crane might topple over, as the huge fire continues to burn.
Fire and Emergency Auckland regional manager Ron Devlin told First Up there was some worry last night that if the crane overheated it could fall, but he was now confident it was safe.
He said a firefighter who was taken to hospital yesterday for tests and monitoring has been released.
Auckland traffic was at a standstill this morning with several roads closed - and many workplaces have agreed to keep staff at home.
Mr Devlin said the blaze did what firefighters expected overnight, and a large part of the roof was sacrificed as planned to safeguard the lower reaches of the seven-storey-building and planning teams were putting in place their strategy for the day.
"The strategy is... how we now contain it in that space and everything is looking reasonably positive towards that."
Specialist investigators would start work on the cause once it was brought under control.
It was the largest and most complex fire the city had experienced in recent times, Mr Devlin said.
Asked if the building might be a write-off, he replied: "I'm not an engineer but I don't believe it is."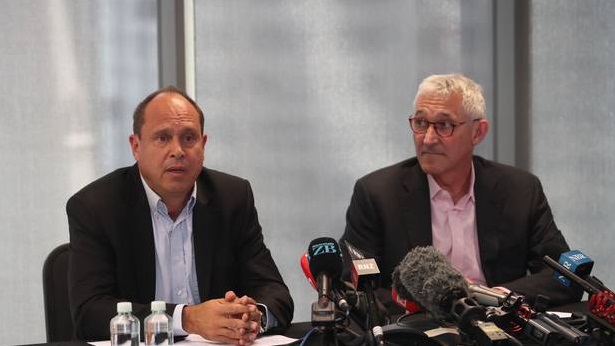 Fletcher Building CEO Taylor echoed that sentiment, saying "no" when asked if the whole site would need to be demolished.
FENZ assistant area manager Dave Woon spoke to the New Zealand Herald this morning, revealing more about the strategy around fighting the fire.
He said about 30L per second was being pumped at the blaze, but the wind was blowing it around meaning the work was "arduous".
Two lanes are open on Nelson St, part of Hobson St is closed, and Wellesley West St is closed between Hobson and Nelson Sts.
Auckland Emergency Management said diversions were expected to remain in place until at least mid-morning and commuters should expect major delays.
Auckland Transport spokesman Mark Hannan said the immediate roads around SkyCity - including Hobson, Victoria, Nelson and Wellesley Sts - would remain closed until at least mid-morning.
"It will be a slow journey in [on Wednesday]. If you can avoid coming into the city, do."
Meanwhile, Auckland Emergency Management acting director Sarah Sinclair advised commuters to take extra care, be patient and stay out of smoke plumes.
"There will be ongoing disruption [Wednesday] morning, while roads remain closed and public transport is diverted.
"We urge people to use their common sense and not put themselves in harm's way by standing in smoke plumes or downwind of smoke."
A Fire and Emergency alert was sent at close to 5am again, asking people nearby to stay out of the smoke, close windows and doors, turn off air conditioning.
The TVNZ central city building and TV studio been evacuated this morning due to the fire, the broadcaster said.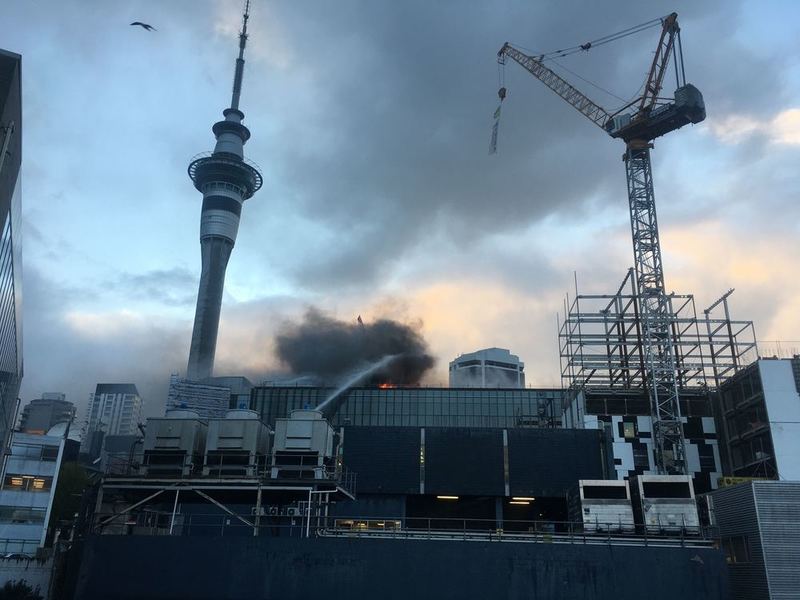 Flames engulfed the top of the building yesterday afternoon, starting on the seventh floor - the roof - before spreading to the sixth. The cause of the fire has not been confirmed, but the New Zealand Herald reports it is thought to have bee ignited by a worker's blowtorch. 
PM to visit
Prime Minister Jacinda Ardern, who usually spends Wednesdays in the capital, changed her plans and will meet Fire and Emergency staff this afternoon.
She is also expected to meet representatives from SkyCity and Fletchers.
Firefighters worked into the night, abandoning the roof, and focusing their efforts instead on preventing further spread to the lower levels.
Dozens of fire units were on the scene, with additional help even arriving from the Hamilton Fire and Emergency branch.
Smoke continued to billow from the building into the CBD precinct yesterday, affecting workers and residents nearby. Those in the area have been warned to either avoid the blocks around SkyCity if possible or take precautions to avoid breathing in the fumes.
Firefighters face a battle on another front this morning, with a severe weather warning forecast for Auckland - including heavy showers, thunder, hail and gales gusting 100km/h set to strike.
SkyCity evacuated its entire Auckland precinct, because of smoke from the fire, with people forced to leave the Sky Tower, casino, all SkyCity hotels and restaurants and corporate offices.
Auckland Mayor Phil Goff told Lately yesterday that they also had to tell staff to leave the council building, adjacent to SkyCity, yesterday afternoon when the hazy atmosphere made their offices "uninhabitable".
Health advice
Auckland's Regional Public Health Service said people living or working near the convention centre should take precautionary measures to avoid breathing in the smoke, inclusing staying indoors, closing windows, shutting external ventilation, seeing a doctor if smokes causes shortness of breath or wrosening of asthma symptoms, wiping down surfaces - especially food prep and cooking - in areas affected.
People who smoke, elderly, children, those with heart disease, asthma or lung conditions are at the greatest risk of smoke inhalation and should avoid exposure, the service said.
But there is no cause to worry for people who are healthy, the health service said most symptoms disappear soon after exposure to the smoke ends.
 - additionally reported RNZ