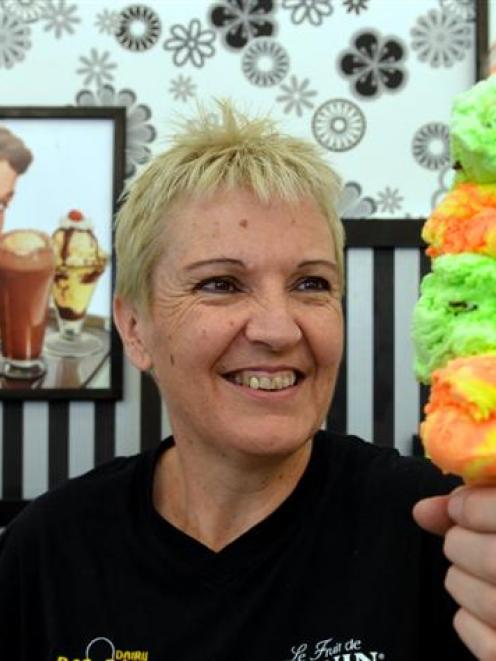 At Dunedin's Rob Roy Dairy, there is a condition among staff known as ''ice cream arm''.
''One arm gets really strong. The other, well, you have to go to the gym to work out,'' owner Liz Watson said, laughing.
Such a disorder was not surprising, given staff sometimes rolled more than 600 ice creams in a day, with the record total being 750 on a March day last year.
Given the popularity of the dairy's ice creams, which she attributed to size and value, Ms Watson has opened an ice cream parlour in the adjacent premises in George St.
She had been keen for expansion for some time, saying there had been lines of ice cream customers ''out the door often and round the corner''.
Those wanting to buy other items often walked away, so she was losing customers, and the dairy was previously very cramped.
She was thrilled with the response to the new venture and both staff and customers were excited about it. The parlour also offered sundaes, smoothies and sodas.
One day last week, her earliest ice cream customer came at 7.15am - he was an ''older gentleman'' - but it was not unusual to have customers, particularly students, buy an ice cream for breakfast, she said.
The parlour offered up to 20 flavours and while it was difficult to name a bestseller - ''they all sell really well'' - mochaccino, cookie dough, pure passion and hokey pokey were very popular.
Some Dunedin residents drove from as far afield as Andersons Bay to buy an ice cream at the dairy, while she had tourists who mentioned their travel agent had said they must go there if they were in the city.
Ice creams never seemed to go out of fashion and Ms Watson noticed that Asian customers particularly loved them. She reckoned it was probably because New Zealand ice cream was ''really creamy''.
While New Zealanders all licked their ice creams, some overseas visitors who asked for a spoon to eat their ice creams with.
''It just doesn't look right,'' she said.