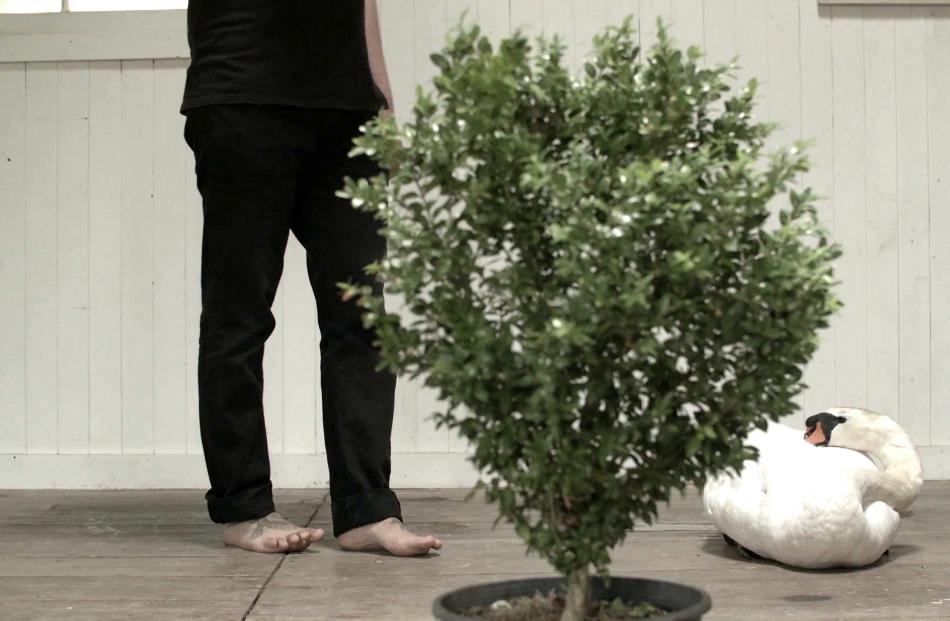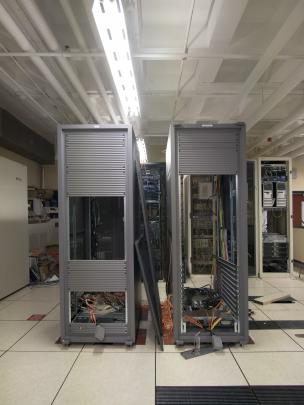 The Hocken Library's latest exhibition looks at cultural guardianship, the role of collecting and the library as a microcosm of the universe. Curator Andrea Bell takes Rebecca Fox on a journey from the pre-colonial era to the information age.
An old wooden sign urging library visitors to be ''quiet please'' saved from the Hocken's refits over the years stands out on a black wall in a new exhibition about the changing face of sharing and producing knowledge.
''The Order of Things'', curated by Andrea Bell, exhibits diverse works from wooden signs and old archaeological field notes to videos, photographs and art works mostly from the Hocken Library archives.
''I was thinking about the Hocken as a repository of knowledge within the university context.''
The exhibition is inspired by Bell's fascination with the many different acronyms used in the library to describe different databases and systems for ordering information and data.
''It could be said that the 'library' is a microcosm of the universe and our classification systems help us make sense of the world.''
Bell has come from an art gallery background, so is familiar with collection management systems relating to the storage of art works.
''But seeing racks of paintings in the context of the Hocken Library made me start thinking about artworks as data, and the picture stacks, or art collection storage room - which is like a physical manifestation of a database.''
The Hocken, established in 1910, has existed as a collection for the people of New Zealand, especially Otago, thanks to its founder Thomas Moreland Hocken.
It has archives, books, drawings, paintings, journals, maps, music, film, newspapers, photographs and posters dating from the 17th century to present day.
''It's a place rich in knowledge that celebrates the histories, cultures and natural environments of Aotearoa New Zealand, the Pacific and Antarctica, with special emphasis on southern New Zealand.''
Bell explains the concept of knowledge is something socially and culturally constructed.
''Our means for communicating knowledge and its visual language is something that continues to evolve over time.''
She says exhibitions are a method for spreading knowledge, such as the New Zealand and South Seas International exhibitions held in Dunedin from 1865 to 1926.
''The latter exhibition held on reclaimed land around the corner from the Hocken at Lake Logan [now Logan Park] relayed information regarding the nation's achievements to over three million visitors, nearly twice New Zealand's population at the time.''
So old black-and-white photographs of those exhibitions from the Hocken collection have been included in the ''The Order of Things''.
The act of ''collecting'' is also seen as an important way to preserve history and knowledge whether it is written, visual or aural.
The transmission of ancestral knowledge for Maori was often by song, so Sir Apirana Ngata's book of waiata, Nga moteatea: he maramara rere no nga waka maha/ he mea kohikohi is on display.
It is linked with Shannon Te Ao's video artwork Two shoots that stretch far out (2013-2014), which features the artist reciting an English translation of A song About Two Wives in which the waiata's composer Matahira, laments her husband te Kotiri's decision to take a second wife.
''Te Ao's rendition is performed before ducks, a swan, chickens, a wallaby, rabbits and a donkey.''
Showing the way knowledge is categorised and catalogued is another aspect of the exhibition, she says.
That is depicted in former Frances Hodgkin's Fellow Nick Austin's painting Lettuce Poems, which shows a series of manilla folders with the title of different lettuce varieties.
''What is clever about this work is that the contents of the manilla folders are hidden from view. We don't know what is inside the files, as only the edges of the interior leaves are exposed.''
It is also shown in Ann Shelton's large-scale photograph of Frederick B. Butler's Collection (now housed in Puke Ariki museum in Taranaki), which looks at eccentric classification systems.
Butler documented the history of Taranaki by pasting local newspaper clippings upside down into wallpaper-covered novels.
''By photographing the shelved spines, Shelton draws us away from the scrapbook's contents, towards a somewhat idiosyncratic personal library system.''
Berlin-based New Zealand artist Ruth Buchanan repeated signs from the Hocken, such as ''no touching'' and ''no finger licking'', as if a script or poem in her work Intractable.
To highlight how ''we now live in the information age'' where data mining has become big business and people's attitude to knowledge keeps changing, Bell has included video works by Tim Wagg and Ruth Buchannan.
''While systems of order will always exist, the language of knowledge will continue to evolve.''
Wagg's two-channel video installation Cold Storage looks at the relocation of the National Digital Heritage Archive from the basement of the National Library in New Zealand to a private infrastructure provider in Upper Hutt.
In In Or Buchannan uses her body as an editing tool moving in and out of the frame interrupting the flow of the information as read on a microfilm screen.
Simon Denny's Prism Slide i0S7 Redesign FAZ (2014) tackles the politics of big data in the information age using imagery sourced from whistleblower Edward Snowden's leaked National Surveillance Agency Power Point slides as content for a proposed redesign.
''Although redesigned by Denny to match Apple's i0S 7, the operating system has since undergone several upgrades rendering his update, out of date.''
To see
''The Order of Things'', Hocken Library, until June 16. Curator Andrea Bell will give a tour of the exhibition on Saturday at 11am.