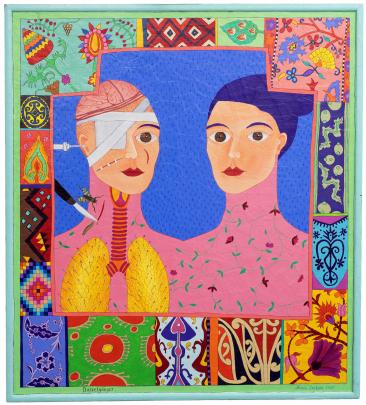 A visit to the University of Otago's anatomy museum sealed a life-long interest in anatomy for Dunedin artist Nicola Jackson — one that has reared its head for her latest exhibition, discovers Rebecca Fox.
Nicola Jackson suspects the work for her latest exhibition could be never-ending.
''I'm never going to be finished. I've done 45 masks; I'm at the point where what I've done is fine.''
Known for her bright colours, detailed drawings, papier-mache forms, and exploration of human anatomy, Jackson has incorporated all her trademarks into ''The Bloggs'', at Dunedin Public Art Gallery.
Her anatomy-related work began while studying at the University of Canterbury School of Fine Arts where her final-year project was the creation of an art anatomy room.
''I've just never stopped having that interest.''
A lecturer had sent her to visit the University of Otago's department of anatomy museum, where she became fascinated by the artfully produced historical anatomy illustrations and engravings. Although she drew the line at looking at disorder or illness.
''When I look back, what I really liked was the feeling of it [the museum], as much as any individual thing. I liked the atmosphere, the pot plants and the specimens mixed together, old and new.''
While she had always ''slipped anatomy in'' to her work, this was the first time since her student days she had focused an exhibition on it.
As part of that she wanted to re-create that ''feel'' of the anatomy museum so had collected a variety of ''old funny things'' such as old medical cases and glass display cabinets, which she has refurbished with colourful lashings of paint.
''It's been a slow accumulation.''
The exhibition's gallery has also been designed with that in mind, with the walls closer together and painted a dark orange.
''I wanted a small intimate room experience.
''It's an installation. I want people to experience the room as a whole, not necessarily looking at one work at a time.''
Jackson says she has a ''bee in her bonnet'' about the short amount of time people often spend looking at each piece in an exhibition.
''Making them be in a room, I hope they'll stop.''
Part of that means there will be no labels or titles for individual works in the exhibition unless written on the pieces themselves.
''I want people to wonder what it is.''
The title of the exhibition, ''The Bloggs'', also reflects that, as the artist wants it to reflect the possibility people were looking at any collection in any person's home.
Jackson herself likes the idea of collecting things but says finding the quirky in Dunedin is difficult.
''So I've had to make a papier-mache collection. If I see something I like, I think 'I'll have to make a papier-mache one'.''
Refurbishing the pieces of furniture is an important part of her work, she says. Re-upholstering an old sofa took a month, but she never considered outsourcing the work.
''There are quite a lot of menial tasks, but I like doing that sort of thing.''
Her papier-mache work is similar in the time it takes to create pieces.
''It can take six days once I get an idea, and I'll be day-dreaming away. There is always something to be done.''
The use of papier-mache also has an anatomical link as it was a traditional method for making anatomical models - a French company in particular developed a method for making the models that way.
''I like that connection. I had a holiday job as a student in a children's holiday programme and we all made lots of papier-mache - I'd never done it before, but realised you could make anything you like.''
Her creations - heads based on phrenology maps, masks and medicine bottles - are often made from the leftover rolls of newsprint from the Otago Daily Times and she finds using a layering method rather than pulp to be more successful.
However, to create her works she begins with modelling the idea in clay and then putting papier-mache over the top before pulling the cast off.
The process means having a ''production line'' of sorts where she is working on multiple pieces at once.
''It can be a tedious task. It might be a wee head-making factory for a month.''
She admits it is not what people might think an artist does.
Her passion for bright colours just came naturally, she says.
''I really don't know why. I love bright colours, I might be colour blind,'' she jokes.
Even at art school she gravitated towards bright colours.
''It pulls things together and they all relate to each other, they look like they belong together.''
The fine detailed drawings on the models and her paintings require a steady hand and more recently some clip-on magnifying glasses.
The best method for that kind of work was to draw boldly and with confidence, she says.
''I can't bring myself to loosen up. It's a style and I can't seem to do it any other way.''
Having filled her home studio with stacks of furniture and art, so much so she had to squeeze around it to be able to work, she is looking forward to seeing the walls again.
To see
Nicola Jackson ''The Bloggs'', Dunedin Public Art Gallery, March 18-June 5