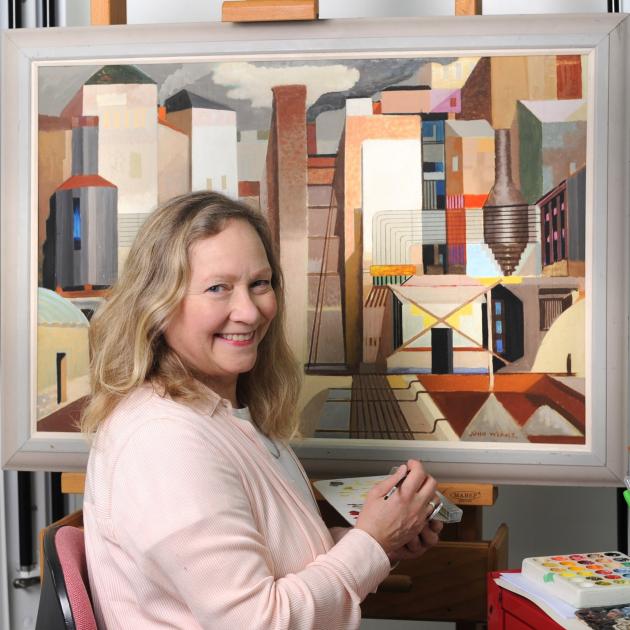 They look after some of our most precious cultural pieces - paintings, works on paper, objects, books - yet art conservators are often unseen and unacknowledged in their work. Rebecca Fox outs two of Dunedin's conservators.
Whether it's a 14th-century religious oil painting or a modern New Zealand artist's print, conservators have a role to play.
Not only do they retouch and mend degraded art works, they also play an important role in documenting a work's history.
Jenny Sherman is the Dunedin Public Art Gallery's sole conservator who specialises in paintings.
When she needs assistance in other areas such as paper she calls on fellow conservators nationally and in Dunedin including private paper conservator Marion Mertens.
''We're a small group here in Dunedin so we consult one another.''
Mertens joined Sherman to assist her documenting and mending works for the recent Gordon Walters exhibition at the gallery.
She specialises in photographs, works on paper, documents, archival material, maps and even 3-D works on paper.
Sherman spends a big part of her time reporting on the state of art works loaned to the gallery or coming out of storage at the gallery, documenting their condition when they arrive and again before they leave. It is something many institutions insist on before they loan out material.
''It's keeping track of any changes.''
The Gordon Walters exhibition was a large project for Sherman as many of the works from his estate collection were held in long-term storage at the gallery so needed not only condition reports but treatment as well.
''They needed matted and framed as well. They needed to be very precisely measured.''
They start out by researching a work, investigating its make-up and materials and from there formulating a treatment plan if needed.
Sometimes it is noting areas of concern which could become unstable, things that are inherent in the work and cannot be changed and then what needs treated, such as flaking paint.
The treatment plan then needs to be signed off by the gallery in Sherman's circumstances, or the private customer in Mertens'.
''We then carry out the restoration,'' Mertens said.
Keeping extensive records about the work done to the art and what materials were used was important for the future.
An important tenet of their work is that everything they do to a work must be reversible.
''So the materials we use can be easily removed without damaging the original. We don't use oil paint. Instead we use natural, mild organic solvents that won't harm the original.
''The whole point is to not cause any damage - to not interfere with the artist's intent.''
As Sherman says, the idea is to stabilise the integrity of a work and help preserve it for longer.
''We limit our retouching to areas of loss. We don't over-paint broadly like they used to, which can be tough to remove without harming the original.''
Sometimes it is not always possible to use reversible materials and in those cases, if it's going to benefit the work, it is done.
''Sometimes you have to decide whether something is so badly damaged it's better to do nothing,'' Sherman says.
''Sometimes it is impossible to do anything,'' Mertens says.
Both say the continual learning in the job is one of its attractions.
''There is no limit to learning. Being presented with a new problem stretches the brain - I love that,'' Mertens says.
Before Sherman came to New Zealand she worked on European masters.
One that stuck out for her was a five-panel 14th-century altarpiece depicting the Virgin Mary.
In her investigation of that work she discovered the gold on the works had been heavily restored and underneath was silvered ground.
''The colour palette worked beautifully with the silver.''
She found having to examine the extensive collection of Walter's work enabled her to get a rare understanding of where he was coming from as an artist.
''It was a pleasure, exciting to see how he evolved.''
For Mertens it is the challenge of the work that she likes, even if the work is not worth a lot.
''A lot of the time works that come to me have huge sentimental value but have not been taken care of but are really important to them [owners].''
It is a ''joy'' for her to ''problem-solve'' to fix a piece.
''Things like old maps. They have had hard lives. Sometimes I need an extra pair of hands as they're so big. They're drawn in such detail.''
She sometimes got attached to works and was sad to see them go.
Art conservation is a small world in New Zealand with many of the conservators working in the industry from overseas as Sherman and Mertens are - Sherman comes from the United States while Mertens is from Canada.
Both had fine art backgrounds before choosing to enter the conservation field. To do that both had to undertake extensive chemistry training before being considered for their courses.
''That was the hardest challenge of them all.''
There is no training for conservators in New Zealand so students are required to go overseas for the specialised postgraduate training and many do not come home.
''There are a few Kiwi conservators but they're definitely the exception.''
The number of jobs in New Zealand is small. Only the major institutions in the main cities having conservators on staff and a few specialised conservators who work privately.