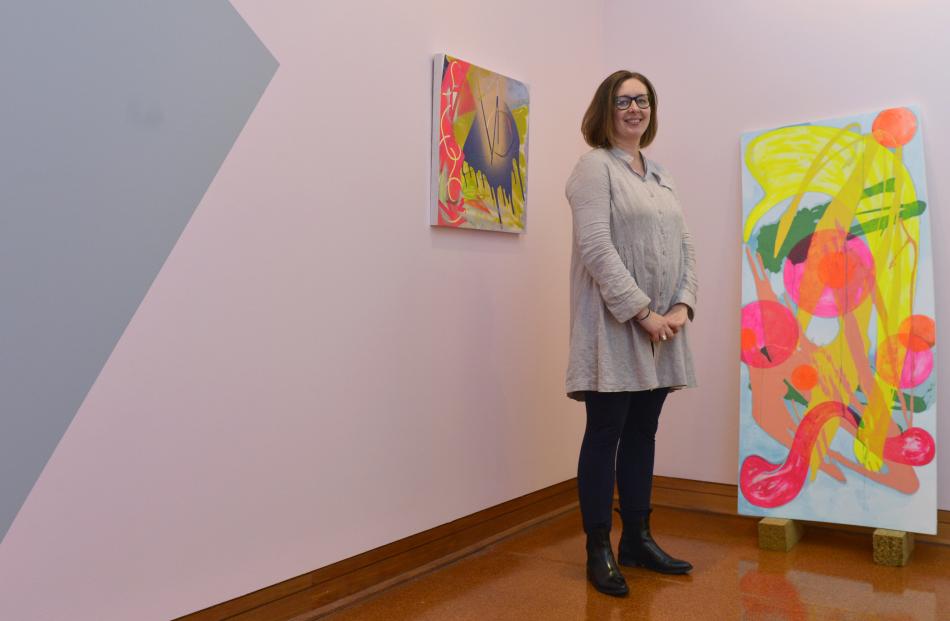 An unexpected event may have made life complicated for the 2016 Frances Hodgkins Fellowship artist but Miranda Parkes' art is all the better for it, she tells Rebecca Fox
Hand-dyeing 22m of silk while juggling a baby is just one of the multitasking skills Miranda Parkes has learned in recent months.
Parkes found out she was pregnant just after she moved to Dunedin to take up the Frances Hodgkins Fellowship last year.
It forced a rethink of her plans for the year but did not dent her big, ambitious plans for an exhibition at the end of her fellowship.
''The biggest challenge was finding a new level of multitasking a baby brings into your life but I suppose that is every mother's challenge.
''It's all come together in the end. The show hasn't been scaled down.''
She does not think pregnancy and becoming a mother has changed her work much but it did make her feel more research-focused than outcome-focused.
''My work has grown and changed an awful lot in the 18 months it is now.
''This show ... is achieving something I could not have done before.''
Parkes' pregnancy forced her to look for and use non-toxic materials and sit still more.
''I was used to my practice being very physical.''
So she turned to watercolours and coloured inks and made papier-mache supports for her works.
''They are things I always wanted to try so I just used the opportunity to go there.''
As she was trying new things, the creative process took longer, so she took little time off when Olivia was born nine months ago.
''When you have less time, there was even more reason not to take a break.''
But in reality, she really did feel like painting straight after the birth.
''It's a thing that I do that makes me feel good. It was important. It is processing time. I'm really lucky because I have that built into my life.''
Parkes always wanted to be an artist, but she never realised it could be a career until she was in seventh form (year 13).
At art school in Christchurch, she discovered sculpture, and since then has threaded sculpture through her painting.
She has been working full-time as an artist since 2005 and is still amazed at what a privilege it is.
''All these resources go into my ideas; people are interested in what I have to say and have to offer. It's such a privilege to have in your life. It's unbelievable.
''The main thing that is important to me is being able to build your own life according to your own beliefs.
''Sometimes that is a bit harder, but it's rewarding.''
She received the Olivia Spenser Bower Fellowship in Christchurch in 2013 and had hoped to one day receive the Hodgkins fellowship.
''I love Dunedin and the year before the scholarship, in 2015 I think, I made four trips down to visit friends. I was starting to think about living in Dunedin anyway.''
So she was ''totally thrilled'' to receive the fellowship in 2016. It seemed perfect timing and she moved her life to the city.
''I wouldn't have not done it if I knew [she was pregnant]. It made it harder.''
However, Parkes forged ahead, developing her ideas for ''the merrier'' - she likes to let titles ''pop'' into her head from a deeper level.
''It's all about ''the more the merrier'' bringing lots of different elements together.
''The idea that adding, adding and adding doesn't necessarily make confusion, it makes things more interesting.''
The idea has been to produce work that together is ''more strongly articulated as an installation rather than separate pieces''.
While in her past work her paintings often ''talked to the wall'' they were on, her latest work took it another step.
''It's showing one big thing, its own thing, in a more stronger way than before.''
She has used lots of different materials and elements to make this happen. Paper, steel, silk and video are just some of them.
''It's really evolved as it went along. There is this thing in art about paring things back to pin the exact meaning but I'm not sure about that.
''It's about maximisation rather than minimisation.''
As part of that, she has removed all the white walls from the exhibition.
''It'll be a riot of colour. There is one glimpse of white. I've eliminated white. I thought it might look bordering on tacky but I've seen the photographs and it looks elegant.''
She hopes the colours will help bring the different works together. Parkes has created 30 to 40 pieces, some of which are tiny while others are huge.
''To take the pressure off myself, I paid the same attention to the big ones as the small, which was quite pleasant.''
Some might not make it into the exhibition, as it depended on how it went together when hung.
''It's still a work in progress. It's a balance between planning and being a bit spontaneous at the end.''
Having visions of the exhibition space in her mind while working had helped the process.
''At the end I go back to it and make the last linking piece. It took a long time to resolve.''
For six weeks before the works headed south for the exhibition, Parkes moved into the office above her workshop in Woolston.
''There was less pressure to go anywhere. When you have a baby, getting her ready and getting her somewhere can take half a day, so this eliminated this prospect and made it more relaxing.''
So Olivia has spent plenty of time in the studio, as working from home has meant Parkes has not had to invest in childcare.
''She's a studio baby. She likes it. I think it's quite a stimulating environment for her - except for eating things.
''I'm lucky to have been able to do that.''
While last week's bad weather and a bad cold delayed her arrival in Dunedin to set up the exhibition, she was looking forward to putting it all together.
''I hope people feel good and have a new idea [from seeing it],'' she said.