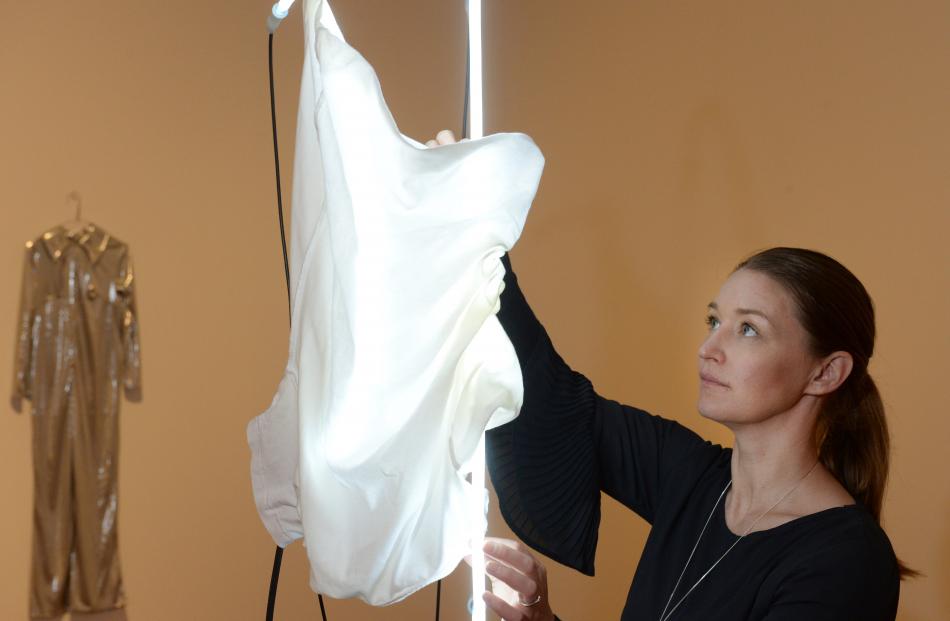 A 19th-century copy of a baroque marble sculpture of David has inspired Dunedin Public Art Gallery curator Lucy Hammonds to look at the way contemporary New Zealand artists use ''textiles'' in their work. She tells Rebecca Fox about pulling together wildly diverse works from the DPAG's collection.
This is not organic, homespun, felted and tufted textiles territory, Lucy Hammonds warns.
In fact, it is quite the opposite - sheets of polythene, synthetic fibre, leather and latex are more likely to be seen in ''Space Suit'', Dunedin Public Art Gallery's latest exhibition.
But they all have one thing in common - the ''textile'' has allowed artists to create their vision.
''It's fun because it unites artists not usually put together.''
As gallery curator, Hammonds has dug into its collection, uncovering 21 very diverse works that use ''textiles'' in sometimes very subtle ways and in others, overtly.
''The unique qualities in these sorts of materials can be exploited in different ways by artists but their presence links them all together and opens up interesting ways of thinking about them.''
The works are all by New Zealand artists and created since the 1970s. They include installations, light works, formal structural sculptural works, big wall-based hangings and small domestic-sized sculptures.
''They are a very high level group of artists who all are or were really important figures within their own context of work.''
From the work of Jacqueline Fraser to Dan Arps and Peter Robinson, all are important voices in contemporary art in New Zealand and internationally.
The early works are examples of traditional and non-traditional textile art practice at the time involving conventional tapestry and weaving and more sculptural fibre art making.
''Our collection and many collections around new Zealand have significant bodies of work in their stores which don't always get looked at right now.''
Yet these works are the antecedents of the contemporary artists showing now, she says.
''But they are not always put in room together. It forces you into areas of the collection sometimes people don't always go.
''So it's been really nice to do research into some of those works and bring them out for the first time in a wee while.''
Hammonds' aim is to show how textile practice has transformed from the traditional hard sculpture of David, the biblical figure, where fabric has been replicated in marble, to the variety of soft and flexible ways it is used in contemporary New Zealand art.
''You don't often see people trying to replicate fabric convincingly in their art practices but the way those materials are present and getting used is a real fundamental part of how many people are working.''
The artists have used a variety of materials in a variety of ways, whether as clothing or costuming or to drape or create.
''There is a mix of approaches - made, sculptural and performance practice.''
Not all of the artists in the exhibition are known as textile artists or for using textile processes.
''There are artists who aren't immediately associated with that but their work integrates these materials in ways that is maybe a bit subtle.''
Arps' Interface sculpture of gloved mannequin hands is one that does not appear to be overtly about textiles.
''It is not a wall-hanging and it is not clothy, but it is a little formal sculpture made out of a pair of hands wearing latex gloves, assembled together.''
The gloves are a ''garment'' and what they are doing in the sculpture can evoke different associations for people.
In contrast, artist Don Driver looks at ''assemblage'' using sheets of polythene and leather - materials associated with a rural environment - which come together in large, soft, draped compositions.
Then there is the work of Margery Blackman, of Dunedin, a very senior figure in the weaving community.
''It's a very good example of its type and it's what you'd expect if you are going to high-level exhibition of New Zealand weaving from the late 1970s and so I find it interesting when you throw those two things together - a very contemporary artist with a very wide-ranging sculptural practice with someone who has a very specific focus to creative practice and are separated by many, many concerns.''
''Textiles'' includes clothing which has been used in many ways by artists over the years as a costume or as a way of indicating a figure is present in the work.
''The use of clothing has become a bit of a path across time.''
Hammonds is very interested in the way clothing in art evokes very personalised readings from people who view them and helps viewers transform themselves into the space the artist wants them to be in.
''People have very specific responses to a pair of medical latex gloves and that's very much conditioned by whatever their experiences have been, whether it's medical or it's sterile or about waste - all those sorts of things, what the smell of the gloves is - everyone has these responses.
''A sculpture like that, while it's not so overt, the material and the function of the garment becomes very interesting.''
Artist Pip Culbert cuts away the body of textiles - clothing, tents, anything with seams - to produce her skeletal garments, leaving just the seams to tell the story.
''This work, the waiter's apron, it's just seams, it's the outline and is about the language of the thing rather than about its function.
''Those works are very minimal and subtle but you can see how people tune into what those lines are doing, what they are and what they mean when they translate that object into an artwork.''
Then there is Ronnie Van Hout's Space Suit, which lent its name to the exhibition which is a ''spectacular, sparkly, spaceman's costume'' hanging on the wall.
''It takes you to this place of dress-ups, film sets and wild journeys. Those are ways textiles continue to be used to pull you into the journey and make art spectacular, interesting, and challenging.''
Hammonds believes the exhibition will ''push and pull'' its audience between very commanding large works and smaller, more subtle works.
''I think people will enjoy seeing those things in conversation with each other, see the meeting points and fairly big divergences.
''They'll come together quite well. There are some large works. Jacqueline Fraser's work takes a considerable amount of room. whereas Peter Robinson's sculptures are quite discreet.''
She is interested in the ways in which different artists use ''textiles'' and whether male or female artists use them in different ways.
It also relates to the textiles' relationship to feminist histories and how artists engage with feminism in their work or look at feminist history and use those particular forms in their sculpture as a way of ''activating that conversation in their work''.
Artists also engage with the production process in different ways. Some become deeply engaged with the making of the textile while others may choose to engage with outside communities for the making and bring that back into their work.
''Highlighting the cycles of discovery and rediscovery of textile crafts, the cultural and social importance of making processes, and the conceptual implications of craft practices.''
The interesting thing about textiles is that they are universal and people have a very strong tactile memory of what it feels like to touch them - to be on a piece of carpet or pick up a sheet of plastic.
''They're very intimate. You sort of develop your own understanding of what things are doing which isn't always the case with an art work.
''It is interesting how you bring your own point of access or experience or response to something you may not have encountered in that particular form before.''
For others, the textile provides the ability to create the artist's vision.
''Some look at these materials as very useful, that offer things that are normally assessable and easily expedite the process.''
Peter Robinson's sculptures made from felt allowed the artist to work the way he wanted to do.
''It makes great lines, they stack very well. It works for the way he's working.''
To see
''Space Suit'', Dunedin Public Art  Gallery, Saturday until November  18. Join curator Lucy Hammonds in a walk through the exhibition September 22, 11am-noon.