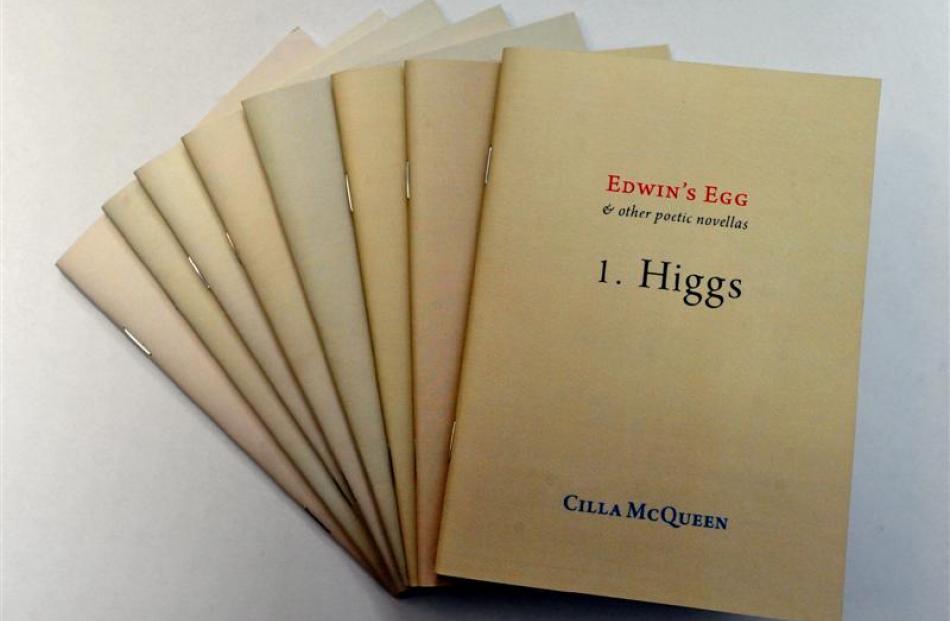 Cilla Mcqueen once said: ''Handwriting is a daily practice and essential to the process of my work. I like that clear line flowing between conscious and unconscious mind, the patterns of threads inked by the travelling nib. The outside world impinges; the inside world flows out in language in a process of exchange between myself and the world through an invisible osmotic membrane.''
Edwin's Egg & other poetic novellas do not flow out of the end of a pen. During McQueen's term as New Zealand Poet Laureate (2009-11) Edwin's Egg was being hatched as ''Serial'' and ran on the Poet Laureate Blog. Usually disliking computers, McQueen was happy to discipline herself by blogging regularly.
Edwin's Egg is eight charming booklets, richly illustrated and slip-cased. The eight interlinked short story-poems combine with a series of obliquely evocative images sourced from the Alexander Turnbull Library.
McQueen said: ''The text came first. My two researchers at the National Library sent me 'clouds' of images in no particular order from which it was my job to discover a possible relationship between any image and any part of the text, which I did in several intense sessions using intuition, memory and deduction.''
McQueen was born in England, moved to New Zealand as a child, spending much of her life in or near Dunedin. She now lives in Bluff. She has published at least 10 collections of poetry, and won the New Zealand Book Award for poetry three times. This is McQueen's fifth collection published since 2000. She is talented and insightful.
There is no clutter in McQueen's poetry. She steeps her poems in sunshine, air and nature. She is never pushy or shouts. Amongst all of this is her razor wit, with no use for convention or sentimentality.
Edwin's Egg is very real. McQueen's confidence infects everything. She aims high and has the chops to hit her mark. This latest work is sprawling, majestic and first-rate. In ''3. Birdie'', McQueen writes about Lyall's wren:
Die wondering, repeated Doris,
leafing through the exotic birds.
Overdue. Her eyes stung. All gone,
feathers for hats, vanity, stoats, rats.
She turned to the smallest
flightless bird in the world, seen
only once and shortly afterwards
dispatched by the lighthouse-keeper's cat.
An artist's impression showed the
robust legs and soft loose plumage
of the Lyall's wren glowing like a coin
on a branch above a fairy prion on the
forest floor. Two green geckoes and a
lichen moth among the upper twigs.
The scientific world heard almost
simultaneously of the wren's discovery
and its disappearance. No sooner said
than done. She blew her nose.
Edwin's Egg is worthy of repeat reads end to end. The old images are crystal clear. They play with the reader. McQueen is forever the artist transferring words into art. These little booklets are exciting.
- Hamesh Wyatt lives in Bluff. He reads and writes poetry. 
---
Win a copy
The ODT has five copies of Edwin's Egg & Other Poetic Novellas (RRP $39.95), by Cilla McQueen, to give away courtesy of Otago University Press. For your chance to win a copy, email helen.speirs@odt.co.nz with your name and postal address in the body of the email, and ''Edwin's Egg Book Competition'' in the subject line, by 5pm on Tuesday, May 27.