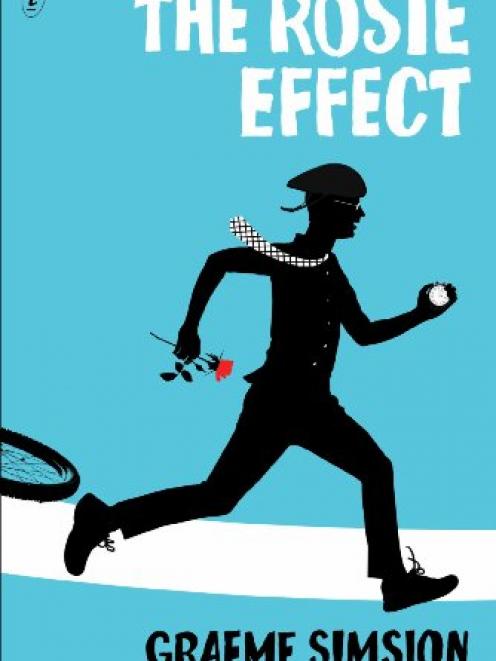 There will be many readers who, like me, have been hoping they had not heard the first and last from Rosie Jarman and Don Tillman, the central protagonists in the quirky 2013 novel, The Rosie Project.
The characters, surely some of the most delightful in recent contemporary literature, came from the pen of Auckland-born Melbourne-based writer Graeme Simsion. The book had its genesis as a screenplay and the movie rights have now been sold.
Those readers who did not discover the ''Rosie'' phenomenon first time round should do so now, and then read this sequel.
The first book introduced us to Don, a highly intelligent Australian genetics lecturer with Asperger's syndrome. He has a meticulously organised life, religiously scheduled routine, and risk calculations and scientific analyses for every scenario and discussion, not to mention a total inability to fathom social protocols, which result in unimaginable and often hilarious outcomes to everyday situations.
Judging by the awards and accolades the bestseller received, readers and reviewers alike fell in love with Don, as did rebellious Rosie, 10 years his junior, and a highly unsuitable candidate for ''The Wife Project'', his 16-page questionnaire to help him find the perfect partner, which she failed spectacularly - initially.
In The Rosie Effect, the two have married and moved to New York where he is a visiting genetics professor at Columbia Medical School, and she is a postgraduate medical student studying psychiatry and simultaneously completing her PhD. Rosie has had a substantial impact on Don's routine. Sex is ''absolutely not allowed to be scheduled'', the ''Standardised Meal System'' (with its fully specified meal for each day of the week) has been banned, although three alcohol-free days have been agreed on as ''without formal scheduling, this target proved difficult to achieve''.
But there is trouble in paradise, as Don is about to discover with the shocking ''violation of the alcohol protocol'': ''Orange juice was not scheduled for Fridays ...''
Rosie's pregnancy - definitely not scheduled - throws Don's world into chaos. He initially goes into self-confessed ''meltdown'' before reverting to type and attempting to restore the equilibrium by providing structure, order and routine for ''The Baby Project''.
First up is a new surprise home - he finds the perfect spacious pad, effectively the beer cellar of a penthouse owned by ageing rock drummer George.
Don (scientific expert and cocktail maker extraordinaire) will be in charge of temperature control of the precious ale and the rent-free tag means they can't complain about band practice.
Then comes a sound-proof cot and a long and rigorous ''Banned Substances List'', exercise and stress-reduction regime designed to provide optimum health and safety for Rosie and the baby, to be known as Bud (''Baby Under Development'').
But Rosie is on an emotional and physical roller-coaster and in a very different head space from Don. Despite (or possibly because of) Don's best efforts, they seem to be heading in ever-divergent directions.
Throw in an unscheduled visit from Don's former genetics professor, the ageing lothario Gene, who has recently separated from his wife and who Rosie despises, a restaurant ''Bluefin Tuna Incident'', a school ''Playground Incident'', a brief prison stint, anger management class, counselling, impersonation and deceit, not to mention issues facing his new baseball buddy Dave (overweight, hopelessly disorganised and with a floundering business) and wife Sonia (also pregnant), the formidable Lydia, and a scientific experiment involving child attachment and a group of lesbian mothers, and you have a raft of complexities for Don to juggle - and another rollicking ride.
I only hope the madcap journey isn't over yet.
---
WIN A COPY
The ODT has five copies of The Rosie Effect, by Graeme Simsion (RRP $37) to give away courtesy of Text Publishing. For your chance to win a copy, email helen.speirs@odt.co.nz with your name and postal address in the body of the email, and ''Rosie Book Competition'' in the subject line, by 5pm on Tuesday, September 30.
LAST WEEK'S WINNERS
Winners of last week's giveaway, Colourless Tsukuru Tazaki and his Years of Pilgrimage by Haruki Murakami, courtesy of Random House, were: Sue Harvey, Anna Sleeman and Janelle Kennedy, of Dunedin, Bea Blakely, of the Catlins, and Margie Bania, of Queenstown.
---
- Helen Speirs is ODT books editor.