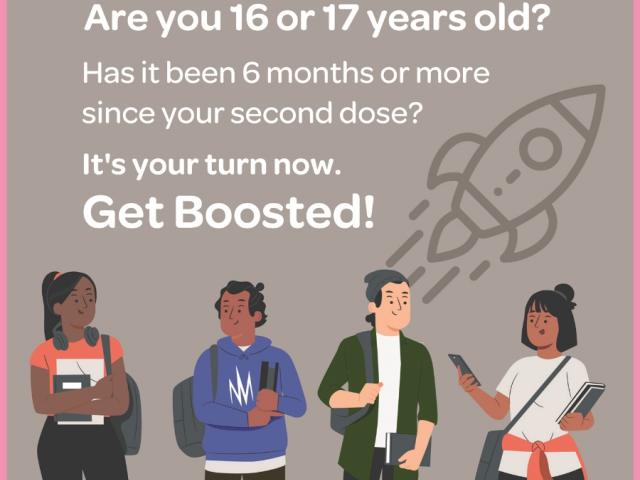 Booster protection against COVID-19 has been extended to include younger rangatahi, with 16- and 17-year-olds now able to get boosted 6 months after their second dose. This means that 7,200 young people in the Southern district are now eligible for a booster dose or will become eligible within the next 6 months. It is also a timely reminder for the remaining 683 people in this age group to get out and get their primary doses to protect themselves, their whānau and their community against COVID-19.
A booster dose is especially recommended for 16 and 17-year-olds who are at higher risk of severe outcomes from COVID-19, including those who are immunocompromised (or living with a family member who is immunocompromised) and Māori and Pasifika rangatahi.
You can check when you are due for a booster by visiting mycovidrecord.nz or referring to your purple vaccination card, if you have one. If your second dose was six months ago you can get your booster by:
Finding a walk-in vaccination centre at BookMyVaccine.nz.
From 14 April, 16 and 17-year-olds will be able to book an appointment on BookMyVaccine.nz.
COVID-19 vaccines will continue to be available at mobile and pop-up vaccination clinics.
For more information on the booster dose for this age group, visit www.southernhealth.nz/COVID19/vaccine
Check out these other Better Health South Stories:
Board Update
Reducing the risk of a measles outbreak
Students busy helping hospital
Dunedin Hospital gets new MRI machine
Had COVID? You should still get vaccinated
Cutting-edge tech will reduce emissions
Champions of the Community
Easter and ANZAC Clinic hours across the Southern District