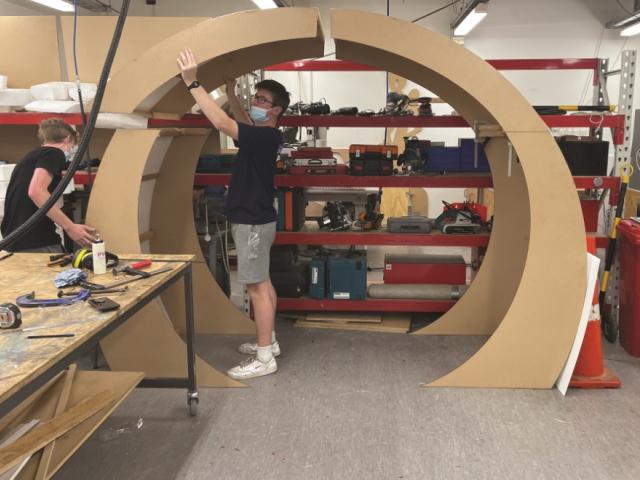 Otago Polytechnic design students are working to solve a problem of the future – ensuring there are places for hospital staff to have sensitive phone calls and conversations in our New Dunedin Hospital.
Open-plan workspaces will enable staff to work in more collaborative ways, but a challenge of open-plan working can be finding space for private conversations when meeting rooms are booked.
To this end, the students are designing 'flexible focus environments' – freestanding, private, noise-reducing pods staff can use for activities such as telehealth calls with patients. The students have undertaken research and design, created cardboard mock-ups, and presented their work to the project team.
Bridget Dickson, New Dunedin Hospital Project Director, says there designs are inspiring.
"Some are modular and can be joined together to create bigger spaces, some have been inspired by the natural environment, and some can be configured for multiple uses," Bridget says.
The students are now building prototypes from more permanent materials, which will be displayed for hospital staff to test and provide feedback on.
"We're giving the students an opportunity to apply their skills to a real-world situation. In return, they're making an amazing contribution – and it's heartening to see such skilful, sustainability-focused and imaginative work from the designers of the future."
Check out these other Better Health South Stories:
Board Update
Booster protection extended to 16+
Dunedin Hospital gets new MRI machine
Had COVID? You should still get vaccinated
Cutting-edge tech will reduce emissions
Champions of the Community
Easter and ANZAC Clinic hours across the Southern District