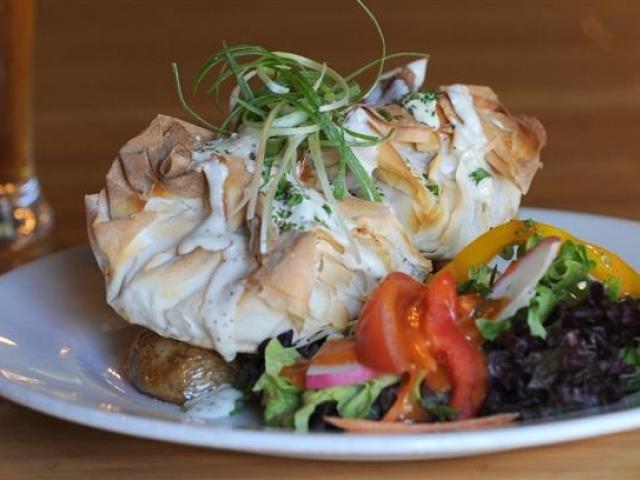 Speight's Ale House's Chicken Filo Parcels
Makes 6Ingedients:
1kg diced chicken
200g diced bacon
70g diced peaches
50g brie 
chicken stock for cooking
filo pastry
melted butter for brushing

Method:
Cook chicken and bacon in a pot in some chicken stock. When cooked, drain off the liquid and soften the cheese in the pot on low heat. Add chicken, bacon and peaches to cheese. Mix well and season to taste.
Preheat oven to 180degC.
Fold a sheet of filo pastry in half, brush with melted butter and top with another folded sheet. Place a heaped spoon of chicken mixture into the centre of the pastry. Crimp the four corners of the pastry and bunch tightly to hold.
Put the parcels in the oven on a tray lined with baking paper and cook until golden brown and the filling is heated through (about 15 minutes).
 
For information on local companies doing Food Delivery/Pick Up or for previous recipes check out these links:
Food Delivery & Pick Up Guide Otago
Day 1: Potpourri Vegetarian Cafe
Day 2: Taste Nature Almond Croissant
Day 3: Pizzeria Da Francesca
Day 4: ODT Media Staff (Merren)
Day 5: Speights Ale House Lamb
Day 6: Morning Magpie Pinwheels
Day 7: Whitestone Cheese
Day 8: Speights Ale House Chowder
Day 9: The Rope & Twine Corn Fritters
Day 10: Bacchus Creme Brulee