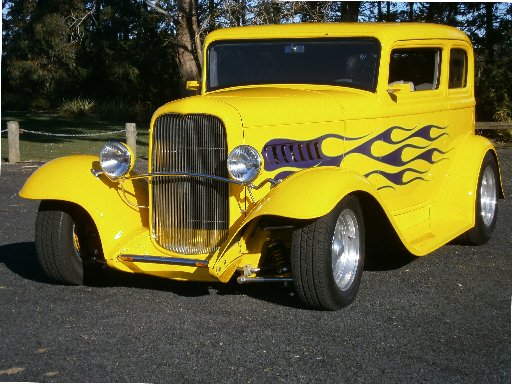 Dunedin couple Wayne and Catherine Holmes are big fans of Ford hot rods - so much so that they now have two.
Last year, the couple imported a canary-yellow 1932 Ford Victoria hot rod from California to go with the 1954 Ford Victoria they already own.
Mr Homes said the 1932 Ford Vic, which has a supercharged 383 Chev engine, was bought from Californian dealer Crevier Cars and shipped to New Zealand by Steve Curle, of Kiwi Shipping.
The car left the United States on June 28, 2018, and landed in Dunedin less than a month later, on July 20, much to Mr Homes' delight.
"It got here pretty quickly, which we were very pleased about,'' he said.
The hot rod was built by Californian man Dale Greer, now in his 70s, about 30 years ago and had only 18,000 miles (29,000km) on the odometer.
The couple are both members of the Stateside Streeters group and will be showing their Ford Vics as part of the group's display at this Saturday's Great USA Day.
Hot rods were growing in popularity among group members, many of who own both unmodified American cars and hot rods.
Mr Homes said he enjoyed owning hot rods because they were "fun and so different".
Check out other The Great USA Day stories below:
US cars' big day out fun for all
Camaro latest in car collection
Rare 1956 continental making show debut
Pair of Ford Vics to star at show