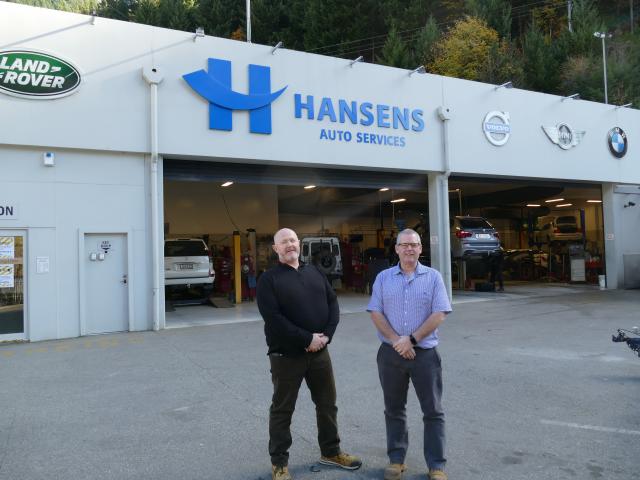 Queenstown's largest automotive workshop, Hansens Auto Services has been locally owned and operated since 1981. Todd Read bought Hansens Auto Services in 1997 when he was just 26, and owned the business for the last 23 years. He completed his apprenticeship under the previous owner, starting as a mechanic and working his way up to service manager. ''It's the only job I've ever had'' he says, "and just like the cliché, I loved the company so much I bought it".
April 1st this year marked the start of a new era for Hansens, with service manager Stuart Williams becoming an equal partner in the business with Todd. Stuart, who worked for Hansens several years ago before going back to his home town Dunedin and working with European brands for 15 years, moved back to work at Hansens again a few months ago. Stuart's experience is invaluable, having worked with Mercedes-Benz for 18 years, and with Land Rover for about 12.
From an initial six people, the operation has grown over the years to now employ a great team of 21. This is testament to Hansens now being the biggest European service centre in Queenstown.
Located just five minutes from the town centre, they are the Central Otago parts and service dealers for BMW, Mini, Land Rover, Mercedes-Benz, Volvo, and Jaguar.
Hansens Auto Services also repair and maintain all cars and 4WDs, and are able to diagnose faults quickly using factory test equipment.
They have specialist training in a range of European vehicles, and service vehicles under warranty, so owners don't need to return to out-of-town dealerships for their vehicle maintenance.
''We're focused on customer service, and being the best workshop in town,'' Stuart says.
Hansens Auto Services do vehicle pick-up and delivery as far away as Cromwell. As a number of the team live there, this is easy to arrange.
''It saves customers from having to spend a day in Queenstown,'' Stuart says. ''It seems to work quite well.''
Of course, they also pick-up and drop-off vehicles from around Queenstown. And at Hansens Auto Services, they'll even wash your car - for free!
Hansens WOF
Make sure your vehicle is road legal with Hansens. They carry out comprehensive Warrant of Fitness safety checks for all makes and models of vehicles.
Hansens pride themselves on their comprehensive WOF checks, and make no apologies for carrying out this safety check of your vehicle to the highest possible standard.
Something that customers may not realise is that every WOF Authority is checked by Land Transport to ensure all inspectors, gear, and premises are up to a high standard. This check takes around four hours, and a workshop is marked out of 3. In each of Hansens last three checks by Land Transport, they have scored the highest possible mark of 3, which they're very proud of.
If you need a WOF safety check of your vehicle that you know will be comprehensive, please see the experts at Hansens.