"Let them eat cake'' is an infamous quote likely to have been erroneously attributed to Marie Antoinette, purported to be her response to hungry peasants complaining about a bread shortage.
As folklore goes, it's a translation from the French ''Qu'ils mangent de la brioche'', which to my only moderate French skills references brioche rather than cake itself, though the French quote appears to have been taken as gospel by burger joints across the land these days where the humble and mighty burger bun, has been supplanted by brioche!
But I'm getting off topic here, as the quote ''let them eat cake'' is a fitting cry as we approach Christmas. Whether you swore off cake as your trousers inexplicably shrank in the wash, just really aren't a dessert person or gave it up for Lent, I think it highly likely that you'll stumble across cake somewhere during the festive season - often repeatedly!
Steamed puddings and plum puddings (the latter devoid of plums - rather, a mix of dried fruits) are a memory from my childhood, often with the addition of tooth jangling coins to the mix.
Others may remember panforte, panettone, stollen or buche de Noel if they come from European stock, and of course there are Christmas mince pies.
Almost certainly commonest of all though is the classic fruitcake, with some families preferring this plain and unadorned, others layering it with almond icing.
I began thinking about fruitcake and wines that you might drink with it (this is a wine column after all), and toyed with the possibly predictable options of various fortified wines such as liqueur Muscat, tawny port and ruby port, which arguably would acquit themselves well.
My mind kept returning, however, to the option of merlot or merlot blends as some of the typical descriptors for merlot such as plum, fruitcake and spice also describe fruitcake to a t.
Merlot combines the useful skill of depth of flavour to tackle Christmas ham or poultry, yet with a roundness and suppleness that wouldn't overpower these dishes, before unfurling its sweet fruit, spice and fruitcake flavours on the... well, fruitcake.
It's a combo that I haven't yet done exhaustive tests on, so I'd love to hear your feedback, but in the meantime here are three Hawke's Bay beauties that should be widely available, and won't break the bank, to get you started.
2019 Left Field Hawke's Bay The Hatchling
Price: $17.99
Rating: Excellent
A merlot-dominant blend that is fragrant and appealing. Bordeaux leaf, bramble, pencil shavings, red fruits and berryfruits, plum with time. Supple and mouthfilling, a depth of flavour across the palate focused on ripe plum and berryfruits. Sweet fruit and spice are balanced by fine tannins and crisp acidity. Nice complexity and drinkability, value too.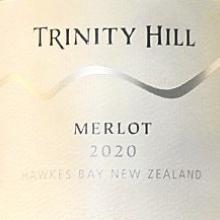 2020 Trinity Hill Hawke's Bay Merlot
Price: $24.99
Rating: Very good to excellent
Rich, ripe and perfumed nose. Plum and dark berries, dusty, yet freshness too. Density to the palate, mouthfilling, but not overblown. Youthful, fresh and well balanced leading with ripe berry, plum and spice flavours, the tannins quietly reminding you of their presence with a chewy, salivatory finish. Immediate drinkability, but will likely shine with added time.
2019 Elephant Hill Le Phant Rouge
Price: $22
Rating: Excellent
Merlot-based blend. Perfume, a little struck match, tilled earth, berryfruit swelling. A silky, velvety feel to the palate, excellent depth of plum and berryfruit married with spice and fruitcake. Already fleshy and open, yet there's fine tannin in support that would carry this nicely in the cellar for a year or three. Lots of pleasure in a glass here.