From a religious perspective, Easter is a celebration of rebirth, and there are parallels across Otago wineries in the birth of the new 2021 vintage, with the grapes beginning their journey towards wine in bottles.
Easter in the South generally coincides with the hectic period of harvest, so vineyards and wineries will be a hive of activity as the grapes come in.
The majority of the grapes in Otago are picked by hand, and in the past RSE workers from Vanuatu and foreign backpackers have been an important part of that workforce. Wineries will have been scrambling this year to rope in as many able hands as possible.
In Otago, our hero variety is most definitely pinot noir, with the 1565.1ha of producing vineyard land devoted to pinot noir in Central Otago being a whisker over 80% of all plantings.
In the Waitaki Valley, the 29.4ha of pinot noir is, by comparison, just under 50%. It is the grape variety that has made the region famous, and today there are thrilling wines across all price points.
A combination of increasing vine age and the sharing of skills and experience among viticulturists and winemakers alike is reaping rewards in the quality of fruit and potential longevity of the wines.
Winemakers are often picking earlier to retain freshness, and being gentler in their handling of the wines, so as to more truly express the land on which they are grown, while experimenting with portions of whole bunch in the ferments can add to the aromatics and tannin structure.
In the case of Central, it's not so much a desire to express the greater region, but to showcase the subregions that they come from, creating wines that are true to their origins in Bannockurn, Lowburn, Pisa, Bendigo, Wanaka, Gibbston, Earnscleugh and so on.
The 2019 vintage wines are beginning to come on to the market in ever greater numbers. Winemakers are fairly bullish about this vintage, and my early tastings support this enthusiasm.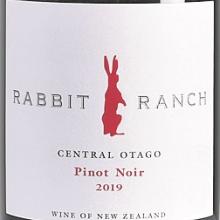 2019 Rabbit Ranch
Central Otago
pinot noir
Price: $27
Rating: Excellent
Attractively lifted perfume, sweet red fruits, earth, savoury nuances, baking spices.
Medium-bodied with a little oak char and grainy tannins and mouthfeel.
A juicy brightness to this, a touch of lead pencil and an appealing close with a little bittersweet edge that adds to the interest.
Nice pinosity, neatly showcasing Central. Pleasure in every glass.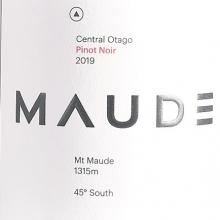 2019 Maude
Central Otago
pinot noir
Price: $38
Rating: Excellent
Ripe, almost liqueur fruits, a little plum perhaps, minerally, wild thyme.
Sweet fruit floods the palate, with robust yet nicely integrated tannins, good texture and a spiciness that fills the mouth.
This flows to a silky, fruit-driven close.
There's a youthful edge to this but it feels like a good each-way bet: drinkability yet potential, too.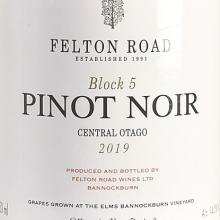 2019 Felton Road
Block 5
pinot noir
Price: $109
Rating: Outstanding
Alluring nose, subtlety yet expression.
Dried herb, savoury, spices, a stony quality, florals, fruit in support.
Growing perceptibly in the glass, the palate dances between the ripe fruits (which build in depth all the while), wild herbs, spices and a hint of tea leaf, chewy tannins in support.
A sappy juiciness here and a superbly long finish. So much potential here.