Rebecca Fox goes through some of the best cookbooks this year.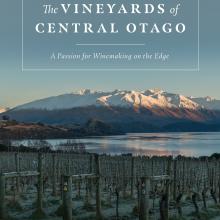 For: The wino
The Vineyards of Central Otago
Viv Milsom and Mike Wilkinson
Godwit
With beautiful photographs and storytelling, the authors have captured the personal tales of the people who have developed and grown the wine industry in Central Otago.
It covers 21 vineyards from Gibbston, Alexandra, Bannockburn, Lowburn-Pisa, Bendigo and Wanaka.
For: The homesick Wellingtonian
Tart and Bitter
David Burton
Potton and Burton
A selection of David Burton's restaurant reviews from decades gone past. Plenty of commentary on all sorts of cafes and restaurants that will bring back memories, cringes and a few laughs.
Burton lets you know which businesses have survived and which have bitten the dust, and also the reviews that ended in a lawyer's letter.
For: The family cook
Mr and Mrs Wilkinson - How it is at home
Matt Wilkinson and Sharlee Gibb
Hardie Grant Books
Those who struggle with cooking for the family while juggling work and life should find inspiration in this book of easy recipes designed to be enjoyed by parents and children.
There is a section of fast dinners, lunchbox ideas, breakfasts and even one-pot wonders.
For: The cake baker supreme
Sweet Street
Anna Polyviou
Murdoch Books
The MasterChef guest with the pink mohawk does the basics and her MasterChef creations like the Firecracker and Anna's Tower of Terror.
There is no shortage of inspiration, tips and twists to traditional recipes and new ones. For Christmas, the twist on a gingerbread house - a lollybag house.
For: The sports-mad cook
New Zealand Rugby Stars Cookbook
Rugby Foundation
Allen and Unwin
This book features favourite recipes from rugby players and coaches present and past, as well as profiles on the contributors detailing their history in the game.
It is a fundraiser for players with serious injuries, mainly spinal and head injuries.