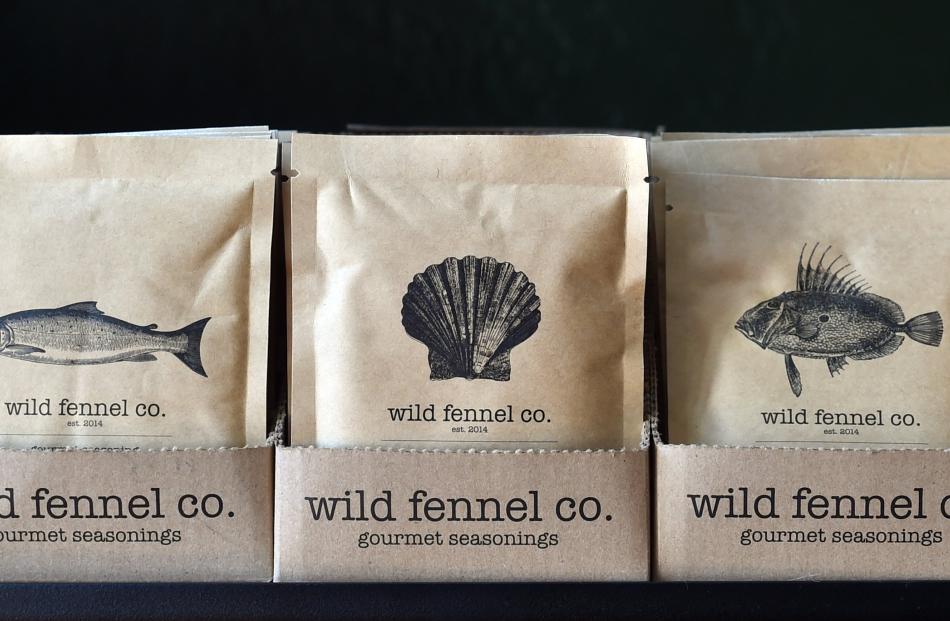 From cooking for London's rich and famous to selling spice mixes in Dunedin, Dan Pearson has been on quite a journey, Rebecca Fox discovers.
This weekend marks a milestone for Dunedin gourmet food producer Wild Fennel Co as the doors open at its first store.
Based in a Port Chalmers building, most well-known for featuring in Light Between Oceans, the store is the culmination of a long journey for Dan Pearson and his wife Jo.
''We love its vintage feeling - it fits well with the feeling of the product,'' Dan said.
Not only are they opening the store on Saturday, but Dan will be running a stall at the Port Chalmers Seafood Festival.
They are also in the finals of the gourmet category in the New Zealand Food Awards, so it has been a busy few months for the husband and wife team.
Funnily enough, Dan is feeling more settled than he has for years - thanks, he says, to the decision to move to Dunedin a year ago.
The couple, who met while working in London, were ready to leave the rat race and 18-hour working days.
They decided to come to New Zealand for a holiday and decided to stay.
A fine dining chef, Dan was soon ensconced in the Auckland restaurant world, but when his children arrived he realised being a chef and a father were difficult to mix.
''They just don't complement each other. I wanted to be a dad, but I didn't know anything else. I'd been a chef since I was 13 years old.''
The chance discovery of a massive amount of out-of-date spices at a restaurant he was working at turned out to be the inspiration for Wild Fennel Co.
As he was having a barbecue that night, he decided to try some of the spices, experimenting and developing rubs and mixes as he went.
''It was born out of frustration. I'd blend up what I'd want.''
These have become the base mixes - a spicy cajun style meat rub, a French-inspired chicken rub and a venison mix (the one in the finals of the NZ Food Awards) loosely based on a spice mix he saw Swiss chefs use in London - of his Wild Fennel Co brand.
The aim was to create flavour-based mixes developed from his knowledge of working in top kitchens around the world for about 20 years.
''It was about what I liked to eat.''
Word soon got out and demand increased. Gourmet food companies such as Farro wanted to use the spices in their Christmas hampers and stock them in their shops.
The couple soon reached breaking point: their eldest daughter was about to start school, Jo was working a day job and the spice business was growing.
The couple made the decision to move south. They sold their house, put aside some money to invest in packaging the mixes and then outsourced the manufacturing of the mixes.
The decision paid off. Jo's rustic designs for the packaging were a hit and the work-life balance was restored.
''It still has that artisan feel and look.''
Their mixes are now sold in 130 outlets around the country.
For Jo, their point of difference is Dan's background as a chef.
''For example, our chicken seasoning has sugar in it for culinary reasons - for the flavour and because it crisps the skin up. It's that technical background which makes a difference.''



Venison steak, blue cheese, pear and walnut salad with a chocolate balsamic dressing
This is a very simple recipe that is big on flavour, using some of my favourite ingredients from around Otago.
Serves 4
Ingredients
200g venison steak
10g Wild Fennel Co. Venison Seasoning (⅓ of one sachet)
100g mesclun salad
50g walnuts
1 green pear
100g Whitestone Moeraki Bay blue cheese
100ml balsamic vinegar
30g OCHO 100% dark chocolate
handful fresh garden herbs, e.g. thyme/mint
oil for cooking
Method
Wash and drain the salad greens. Crush the walnuts with the flat side of a knife and toast them lightly in a dry pan on a medium heat.
Put to one side to cool down. Next, quarter, de-seed and thinly slice the pear. Chop a small handful of fresh garden herbs.
Mix the above in a large bowl and put to one side.
Roughly dice the Whitestone Moeraki Bay blue and also put to one side.
In a saucepan, gently heat the balsamic vinegar (don't let it boil). Whisk in the 100% dark chocolate until melted and begins to thicken. Remove from heat.
Now for the main ingredient, the venison. Heat your frying pan to a medium-high heat.
Open the sachet of Wild Fennel Co. venison seasoning and massage it into the steak.
Add the cooking oil to the pan and place the steak in gently. Sear the steak for 2-3 minutes on all sides. Once that is done, remove from pan rest for 4 minutes so that the meat is relaxed and ready for slicing.
While resting the steak, take the salad ingredients in the bowl and drizzle with the chocolate balsamic dressing. Give it a toss and place a handful of salad on your plates with some of the blue cheese on top (to plate up like the photo seen here, spoon some dressing into the middle of the plate and build your salad around it).
Carve your steaks and add them to the salad, and enjoy.