It will come as no surprise to readers of this column that I have a soft spot for many of the lesser-known varieties, be they white or red.
Winemakers and winery owners who champion these uncommon varieties often do so with passion, persuasiveness and, occasionally, pig-headedness: proselytists indeed in the acclamation of the little known.
I haven't heard a lot of drum banging for verdelho in recent years, but that may simply be due to how little of it is grown here, with only three producers that I am aware of and just seven hectares planted.
A Portugese white grape most famously grown on the island of Madeira, where it gives its name to one of the fortified wine styles, and also on the Azores, with very small pockets grown on mainland Portugal (the plantings of the grape gouveio in the Douro; once thought to be a synonym of verdelho, have now been shown to be godello). Also found in the Loire Valley in France, California and Argentina.
Perhaps surprisingly, there are significant plantings in Australia - with 2015 figures showing just over 1000ha - where it is prized for its crisp acidity and disease hardiness, producing wines of richness and freshness in warmer regions. It should not be confused with the completely different Spanish white grapes, verdejo and godello.
I've sometimes heard the descriptor ``fruit salad'' used for verdelho, and not always with a positive slant, yet to speak negatively of its oft bold, fruit-driven character would be to deny the irresistible charms that it wears on its sleeve. A bowl of fresh summer fruits await those who care to seek out our rare examples: you may well find the same joyful pleasures in them that I do.
2017 Esk Valley Hawke's Bay Verdelho
Price: $20
Rating: Excellent to outstanding
Fragrant nose of stone fruits, greengage plum, quince and grassy notes. Quite intense on the palate, a delightful mix of rich texture and crisp freshness. Spice and citrus notes lead the way, apricot following, lots going on here, lots of interest.  The flavours linger on the long finish, the fresh close a delight. 
Delicious.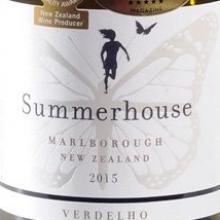 2015 Summerhouse Marlborough Verdelho
Price: $22
Rating: Excellent to outstanding
More colour evident, with buttered toast, spice, straw and lifted perfume; quince with time. Richly textural and almost oily with lovely integration, spice and straw notes leading the way, a citrusy zestiness too before a cracked pepper hint hugs the finish.
The richness reminds one of chardonnay, yet the flavours remain true to verdelho.
2013 Villa Maria Ihumatao Vineyard Auckland Verdelho
Price: $30  (cellar door, now onto the 2014 vintage)
Rating: Very good to excellent
Smoky buttered toast, lime cordial, damp straw and a hint of funk. Lifted palate with greengage plum, lime and grassy notes; that lovely texture again, on a somewhat more taut and structured frame, bright acidity rushing in on the long, citrus accented finish.
This opens up nicely with time, yet possibly the most clear-cut food choice.