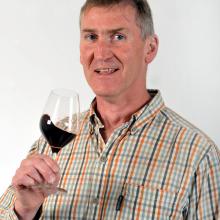 Historically, it was not uncommon for farmers to plant a hodgepodge of varieties in a vineyard.
This would have provided a mix of flavours in the finished wine, while the differing budburst and harvesting times for each variety would have provided some protection against the vagaries of each season.
Old Zinfandel dominant vineyards in California, and mixed vineyards in Alsace have been at the forefront of this movement, with Kiwi wineries getting on board with "the sum is greater than the parts'' mantra. Carrick is one of them.
Skin contact
The readership will know I'm sure, that apart from a handful of exceptions, the flesh/pulp of all grapes including red varieties is white. The colour comes from the skins.
Skin contact is a very fashionable term at the moment with white wines (particularly from pinot gris) given long macerations on the grape skins to pick up colour, flavour compounds and phenolics, leading to what is dubbed ''orange wines''.
A contrast to this trend is that some red grapes are vinified without the skins to create white wines. White merlot from Switzerland and white pinot from Italy are two, with Wooing Tree forging that path in New Zealand with their ''Blondie''.
Sauvignon blanc's wingman
Sauvignon blanc is our dominant grape variety. While normally seen as a single variety wine (our labelling laws do allow up to 15% of other varieties to be blended into a wine without the need for disclosure), it has a long history as a blending partner with the white grape semillon.
Commonly found in Bordeaux in France, in New South Wales and in West Australia where the blend is labelled SSB, semillon can add a delicious smokiness and citrus character.
Rarely seen ''stand alone'' here, a few percent can make a mighty difference, with Pegasus Bay ratcheting that up a notch.
2015 Carrick Electric No 1
Price: $36
Rating: Very good to excellent
Peach, smoke and sweat, adding preserved lemon and stonefruit with time. Quite different this, supple and textural, leaning to Europe in style in its vinosity. Musk and pear come to the fore as a sweet, fruit richness builds, with a real charge and zing to the zesty undercurrent of acidity. 
Caused much debate, but I like it.
2016 Wooing Tree The Blondie
Price: $28
Rating: Very good to excellent
Subtly attractive nose with touches of pear, stonefruit and honeyed spice. Spicy, juicy and crunchy on entry with stonefruit influences (I could easily think it was pinot gris), building nicely in fruit sweetness and richness as it goes on. There's a citrusy zippiness to the finish that makes this very drinkable.
Quietly yummy.
2015 Pegasus Bay Sauvignon Semillon
Price: $31
Rating: Very good
Powerfully exuberant notes of burnt match and sweat that may challenge the uninitiated, with a citrus and herb backdrop. Citrus, lime oil, cut herb, greengage plum on a richly textural palate: time brings in smoke, citrus and bramble, before the long citrusy finish. Needed time to open up.
Much debate centred on the intense nose.