I'm increasingly aware of the sense of history in Central Otago's wine industry. Featuring today are Chard Farm, an ''old hand'' founded in 1987.
Carrick and Quartz Reef, both part of the ''second wave'' planted in 1994 and 1998 respectively, while the relative ''newcomer'' Burn Cottage was planted in 2003.
All pioneers in their own ways; respectively trialling organics, farming organically or farming biodynamically, while Carrick is pushing the envelope today with its two no sulphur added wines.
Ignoring the history, the wines are smart too! 
2018 Grasshopper Rock Earnscleugh Pinot Noir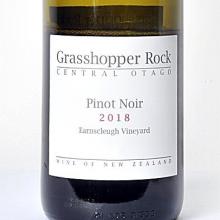 Price  RRP $40
Rating Excellent
A cooler element to
the fruit expression,
cranberry,
tamarillo, red fruits,
anise, a little
umami/marmite
note. Savoury and
somewhat
brooding palate
flooded with lead
pencil and
shavings, the fruit
growing all the
while as it opens
up. A long, grainy
close. Youthful,
there's a bit of the
brash youth to this,
but the intrinsic
quality is there for the future.
www.grasshopperrock.co.nz
2019 Carrick Billet Doux Central Otago Pinot Noir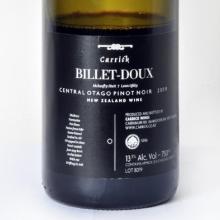 Price RRP $36
Rating Excellent to Outstanding
Ripe dark fruits,
some red fruits,
forest floor savoury
notes, berry
compote, growing
perfume, very
engaging. Fleshy
cherry and mixed
berries, a wisp of
lead pencil and
wildness, powerful
and voluptuous, a
line of acidity and
fine tannins giving
structure too. A
long finish with an
appealing
chewiness.
Powerful, complex,
already open, just lovely.
www.carrick.co.nz
2019 Quartz Reef Bendigo Single Ferment Pinot Noir
Price RRP $85
Rating Excellent to Outstanding
Boldly fruited nose,
dark & brooding,
berry jam, liqueur
fruits, a smoky/
dusty character,
blueberry with
aeration. Silky
entry, supple and
mouthfilling, before
the underlying
powerful tannins
strut their stuff.
Spices, growing
perfume, warm
leather as this
begins to unfurl.
This is a powerful
wine, hinting at
future complexity
and built for the long haul.
www.quartzreef.co.nz
2019 Carrick Pot de Fleur Central Otago Pinot Noir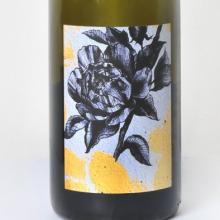 Price RRP $36
Rating Outstanding
Wild, a little funky,
red fruits, a dash of
balsamic, perfume
welling up. A nose
of intrigue. Just
delightful in the
mouth, incredibly
juicy and crunchy,
vibrant with
delightful purity.
Dances on the
palate, yet there's a
backbone of tannin
too with chewy
structure on the
close. Almost a
Gamay quality to
its approachability .
Pushes some
different buttons. Fun, enjoy young.
www.carrick.co.nz
2019 Chard Farm Mason Vineyard Central Otago Pinot Noir
Price RRP $79
Rating Excellent
Flirts with a funky
note, then perfume,
sweet fruits and
savoury elements.
A coolness to the
palate leading with
cranberry & mixed
berries, and
refreshing
crunchiness to the
mouthfeel,
heightened by a
tangy quality.
Quietly deceptive
tannins that build as
it opens. Lively,
fresh, already
approachable, an attractive vibrancy with
a deliciously salivatory finish.
www.chardfarm.co.nz
2019 Burn Cottage Valli Vineyard Gibbston Pinot Noir
Price RRP $70
Rating Excellent to Outstanding
Deeper, richer
nose, berryfruit
jam, cordial, stony,
a minty/wild thyme
note growing as the
savouriness
appears. Leaps out
of the glass.
Velvety mouthfeel,
cosseted by fine
tannins, depth of
flavour without
weight. Coolness
and lightness with
lovely balance. The
underlying
structure makes its
presence felt,
flowing to a long,
spicy close.
www.burncottage.com
2019 Burn Cottage Burn Cottage Vineyard Central Otago Pinot Noir
Price RRP $70
Rating Outstanding
A stony/minerally
note, wisps of herb,
soy/umami, fruit in
support, a sense of
elegance. Silky
entry, rich, dense,
then the chewy
tannins race in. For
all its underlying
power, there's an
effortlessness to
this, purity and
complexity.
Elegance and
finesse that will
reward broaching
young, but cellar timewill reward. The
flavours hang in the mouth. Yum.
www.burncottage.com
2019 Chard Farm The Tiger Central Otago Pinot Noir
Price RRP $79
Rating Very Good to Excellent
Perfume, a little wildness, lanolin, berry
jus, a splash of
balsamic. Savoury/
umami notes lead
the palate, mixed
berryfruit and
spices along with
peach and
mandarin nuances,
some fruit cordial
over time. A lighter,
more aerial quality
to this, with some
youthful edginess
on the close. Some
different
characters, a wine
that makes you
think.
www.chardfarm.co.nz
2019 Chard Farm Viper Vineyard Central Otago Pinot Noir
Price RRP $69
Rating Excellent
Fascinating nose,
something savage
and wild, underlying
savoury qualities,
perfume and red
fruits, draws you
back for more. A
youthful quality,
dry, minerally,
flecks of rhubarb a
sweet 'n' sour
tangy freshness,
fruit sweet yet dry.
A tingly brightness,
that liveliness
building as it opens
up, with a savoury
close. Needs time to show its best, but
great with food now.
www.chardfarm.co.nz