At the opening address of the 2018 Central Otago Pinot Celebration, chairman Paul Pujol made the comment that if you saw a wine that you wanted to try, you really should do so, as you are unlikely to see it again over the course of the event.
The diversity of wines poured is quite phenomenal, ranging from current releases, to rarely-seen overseas wines, to museum wines direct from the wineries cellars.
Tasting wines is what the celebration is all about and the ''grand tasting'', held this year in the spacious Amisfield barrel cellar, is the core component, where participating wineries each pour two wines.
These could be current or impending releases, museum wines or prestige selections. Picking favourites seems unfair as I focused on wines that I haven't tasted recently, meaning that I had to sidestep several top producers.
However, some stand-outs for me were the wild and boldly fruited 2014 Amisfield Estate, the elegant and ethereal 2015 Burn Cottage, the structured and complex 2015 Carrick Bannockburn, the elegant and pure 2014 Domain Road, the minerally and wild herb scented 2015 Doctors Flat, the juicy and vibrant 2016 Grasshopper Rock, the savoury and delightfully nuanced 2014 Prophet's Rock Home Vineyard, and the piquant and schisty 2016 Quartz Reef.
The grand tasting was bookended by the first day ''discovery tasting'' and the final morning ''Oregon masterclass''. The former saw a panel of three overseas resident winemakers - ex-pat Kiwi P.J. Charteris, Californian Ted Lemon and Burgundian Francois Millet, who make wine in both Central Otago and overseas - drill down into some of the things that have drawn them here, and influenced their winemaking choices.
The latter was a highlight for me, moderated by US wine-writer Elaine Brown with Oregon winemakers Adam Lee and Sam Tannahill in attendance.
Elaine had clearly put an enormous amount of preparation into this session, and the trio demonstrated their obvious love and passion for Oregon wines, bringing the place, the winemakers and the wines vividly to light. I walked away having learnt a great deal, as I did for the entire three days.
2016 Rockburn The Art Pinot Noir
Price: $97
Rating:  Outstanding
Smoky and savoury nose, wild, a dusty, rain-on-hot-gravel note before darker fruits flood in. The dark fruits and boysenberry are rich and plush without being sweet, the palate velvety and neatly integrated, fine tannins framing the wine, with a wild herb note hanging on the long close.
Really crept up on me showing delicious refinement and complexity.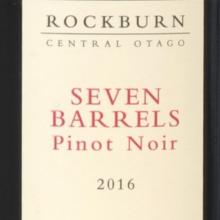 2016 Rockburn Seven Barrels Pinot Noir
Price: $97
Rating: Outstanding
Smoke, earth, forest floor, a funky core on a core of fruit. Earthy palate with darker fruits and spice: bright acidity giving a cooler feel to the fruit. Time adds wild herbs and savoury undercurrents to the supple and gorgeously rich (yet not over-sweet) palate, which is fine, elegant and delicious.
A little youthful brashness says there's much more in the tank.
2014 Chard Farm The Tiger Lowburn Pinot Noir
Price: $69
Rating: Excellent
Fragrant nose of lavender, herbs, tilled earth & forest floor: the fruit a backdrop. Lighter, more airy style, nicely balanced with finesse and refinement. Not a big wine but attracts due to its complexity and interest, a sweet & sour zinginess and red fruits evolving with time.
A wine of subtlety rather than bombast with  delightful charms there  for the inquisitive.