Rather than the three Rs of reading, 'riting and 'rithmetic, today's Waitaki Valley focus settles on the two, much more pleasurable, Rs of riesling and rose.
My eager cohorts - Collins and McLaren - were like me in thinking back to the warm summer and long, dry autumn of 2016.
Judging from the contents of these bottles, those conditions clearly gave winemakers excellent fruit to guide into these eye-openingly smart wines that surprised and thrilled.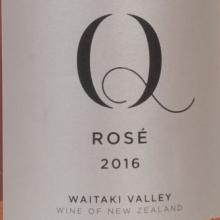 2016 Q Wines Waitaki Valley Rose
Price: $34.50 (cellar door)
Rating: Excellent
Peachy/salmon colour. Perfumed and floral with strawberry and fruit jube aromatics. Powerful palate: strawberry, juicy berry fruits and peachy notes fill the mouth, showing lift and lovely balance. The long finish has a refreshingly piquant, tangy note, neatly balancing the fruit sweetness.
Deliciously drinkable.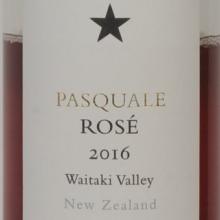 2016 Pasquale Waitaki Valley Rose
Price: $27
Rating: Very good to excellent
Salmon/onion skin colour. Initially savoury with strawberry hints, developing a yeasty, umami note. Crisp and fresh palate with strawberry, stonefruits and boiled sweets; spice on the finish. Fills the mouth nicely, creamily textured, the touch of fruit sweetness moving to a nicely dry close.
A touch different but rather moreish.
2016 Pasquale Waitaki Valley Riesling
Price: $27
Rating: Good to very good
Burnt match, bread dough and honeyed apple lead the nose. The chewy, honey and apple-led palate is joined by notes of boiled sweets and burnt match, fruit sweetness hanging on the finish with a little warm glow.
Interesting things going on here, needing a little time in bottle to integrate the sulphides.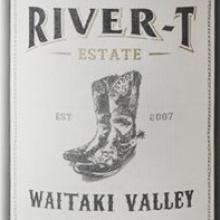 2016 River-T Waitaki Valley Riesling
Price: $22 (cellar door) 
Rating: Excellent
Attractively fragrant and floral nose with white flowers, fruit sherbet, apple and honey. The palate adds cooked apple, baking spices and fruit pastille to the honeyed elements. Texturally rich in an off dry style; the acidity there but never harsh, creating a fine counterpoint to the honey.
Breadth and depth here; very tasty.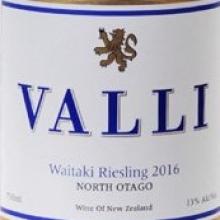 2016 Valli Waitaki Valley Riesling
Price: $30 
Rating: Excellent to Outstanding
Subtle nose leading with stone and schist, wildflowers and honey coming into the picture. In the mouth, ripe stonefruits, nashi pear, apple and honeyed elements with great texture and flow through the mouth. Off dry with lovely crispness; the long, long finish ending with spiciness and real juiciness.
Lovely and very moreish.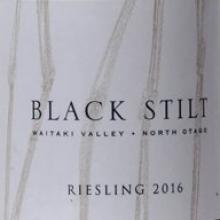 2016 Black Stilt Waitaki Valley Riesling
Price: $22  (cellar door)
Rating: Excellent
Appealing nose with fruit jube, apple and citrus. Nice concentration on the palate, evident richness with added notes of sherbet and spice. A delightful, lifted fruit sweetness carries through to the close, where the wine develops a crunchy, chewy touch with bright acidity.
Just off dry and rather charming.