Mentioning the Croatian red grape tribidrag will likely result in blank looks. Its claim to fame, however, is that it was the end point of a great deal of research and DNA profiling centred around zinfandel, most commonly (and extensively) found in California.
There had been suspicions that zinfandel might be connected or related to primitivo, which is grown in Puglia, the "heel" of Italy. Advancements in DNA profiling technology in the 1990s led to the confirmation of this hypothesis, with further research unearthing a parent/offspring relationship to the Croatian grape plavac mali.
This discovery led scientists to the Dalmatia area of Croatia, where a local grape called crljenak kastelanski was found to be a genetic match to zinfandel. Further research on this latter grape led to the discovery of a genetic match with the even more ancient Croatian variety tribidrag.
Tribidrag/crljenak kastelanski, Croatia's most successful grape export, thrives under its new monikers in both Puglia and the United States, where it initially arrived on the East Coast in the 1820s before being taken west during the great gold rush.
In California, its roughly 20,000ha make it the second-most-planted red grape after cabernet sauvignon and some 60% greater than the plantings in Puglia. It is also found in Montenegro, Mexico, other US states, the Languedoc and Australia, while the latest NZ Winegrowers figures list a scant 2ha planted in New Zealand.
Wines made from zinfandel/primitivo are typically opulent, lush, relatively high in alcohol, with bold fruit flavours such as raspberry, blueberry, dark cherry, plum and jam, backed by spice, liquorice and pepper characters. Super-ripe examples can move into the pruney, porty spectrum, while lighter versions emphasise red fruits. Mostly flying solo but sometimes seen in blends, they are generously flavoured and supple, invariably offering great bang for buck.
2018 McManis Family 
Vineyards California 
Zinfandel
Price: $25.99
Rating: Excellent
Bonfire smoke, darker fruits, 
milk chocolate, spices and a 
creamy note with time. 
Initially rounded and 
supple, a mix of red and 
dark fruits with 
chocolate, yet brightness 
and freshness too. With 
time red berryfruit and 
cranberry take the lead, 
the structure builds, the 
wine becoming more 
coiled, oak spices 
framing the close. Nice 
vibrancy here.
2018 Poggio Anima Lilith 
Salento Primitivo
Price: $21.99
Rating: Very good to
excellent
Darker, almost brooding 
expression, berry jam, wisps 
of herb, savoury notes. The 
palate continues the 
savoury theme, with 
prunes, redcurrant and 
tangy berryfruit. Evoking 
the hot Italian sun. 
Crunchy, chewiness to 
the tannins with a sweet, 
lifted fruit nose evolving. 
Super-ripe fruit, yet a 
tingly quality keeps this in 
line. Fascinatingly 
different  from the US 
expression.
2017 Bogle Old Vine 
California Zinfandel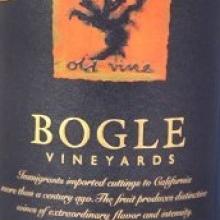 Price: $27-$29
Rating: Excellent to 
outstanding
Perfume, cedary oak, 
blueberry, spices, cocoa 
powder. Mixed summer 
berries, plums, milk 
chocolate, added layers of 
dried herbs and umami 
nuances revealing 
themselves. The fruit fills 
the mouth, neatly balanced 
by freshening acidity, with 
lovely complexity and a 
long finish. Manages to be 
hedonistic rather than 
bombastic. Huge pleasure 
in a glass of this.