Labour Weekend will see wine lovers flocking to Clyde for the annual Alexandra Basin Winegrowers New Releases Wine Tasting.
A regular feature on Labour Weekend Sunday; now in its 11th year, with more than 20 local wineries showcasing their new releases. There's live music and complimentary cheese and crackers. This year's guest speaker is Kiwi Master of Wine Emma Jenkins.
The $30 ticket price covers admission, tasting glass and booklet and all tastings.
Tickets: the Alexandra i-Site or online at: centralotagonz.ibisnz.com
21 years young
Quartz Reef recently held a trade luncheon to celebrate the 21st anniversary of their Bendigo vineyard, the first in the region, which they farm biodynamically. Rudi and Lianne from Quartz Reef spoke of the journey thus far and challenges old and new.
The 2010 Late Disgorged Vintage bubbly was a magnificent start, followed by three vintages of each of their Pinot Gris and Pinot Noir, which deftly showed the subtleties of vintage, culminating in the superb, limited release 2017 Otto Pinot Noir. The revelation for me was the 2009 Pinot Gris: fresh as a daisy and drinking superbly. Remarkable!
New World Wine Awards
There was a subtle local connection to the New World Wine Awards this year with chief judge Jim Harre resident in the Dunedin area, while Central winemakers Jen Parr (Valli), Nadine Cross (Peregrine) and Vanessa Robson (Maude) were all on the judging panels. Also attending as an associate judge was Raj Jamwal, of New World Gardens.
The panels tasted their way through 1426 wines, 90% of which were from New Zealand, awarding 105 Gold medals with their Top 50 being showcased across the country.
With all the wines sub $25 and available in high volumes, it makes these medal winners highly accessible. Here are three.
2019 Falconhead Hawke's Bay Rose
Price: $12.99
Rating: Very good to excellent
Deep salmon colour. Classic nose of strawberries and cream, an attractive savoury undercurrent. As the palate evolves it adds rose petal and confectionery while there's chewiness to the texture. Just off-dry at first, becoming a little sweeter, though a bittersweet orange peel note provides contrast.
Great bang for buck here.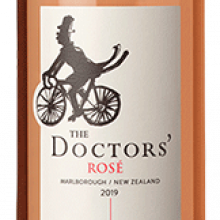 2019 The Doctor's Marlborough Rose
Price: $19.99
Rating: Very good
Very pale salmon colour. Rose florals, peach, strawberries and cream. Crunchy green apple vies with strawberry on the palate, the whole playing in the sweet and sour spectrum. Time in the glass sees this fatten up nicely; the message here is refreshingly crisp drinking on a warm summer's day.
Easy sipping here.
2019 Madam Sass Central Otago Rose
Price: $24.95
Rating: Excellent
Pinky rose. Strawberries and cream, dusted with icing sugar, sweet perfume. A burst of fruit sweetness on the front palate with confection and fruit sherbet before the racy acidity snaps this back into line. Breadth of flavour across the mouth, with a lip-smacking lick of salinity on the close.
In the sweeter spectrum, fascinating, growing on me all the time.