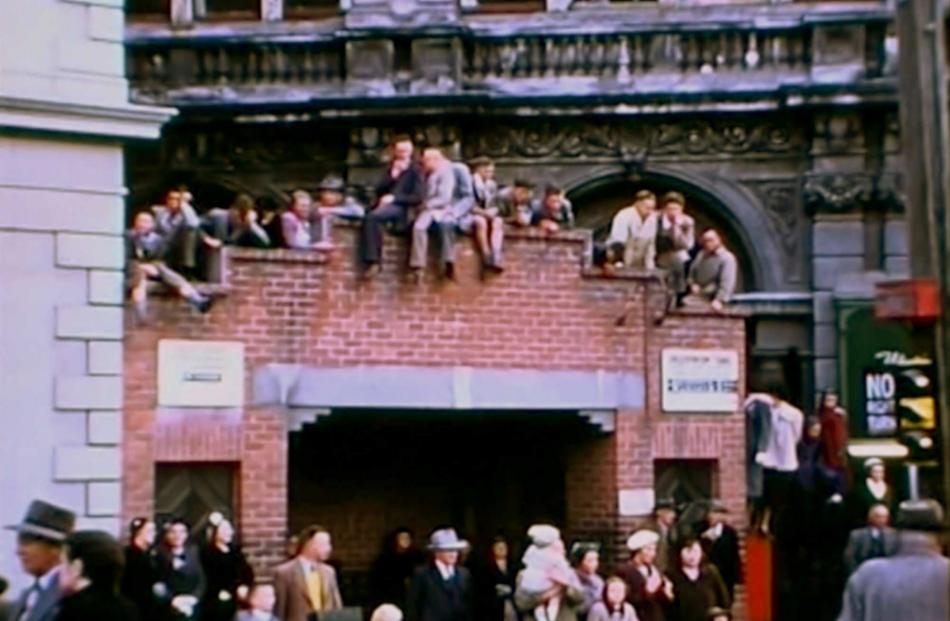 He's worked on blockbuster films and directed some of New Zealand's most familiar television commercials, from the Air New Zealand advertisement that had birds flying in koru formation to the bank ad in which a hundred dollar bill pulled a man around the streets of Wellington. Now David Green is putting viewers in control. Kim Dungey reports.
A local man who once made his living creating visual effects for feature films says his latest work is partly a reaction against the "highly controlled machine" that is cinema.
David Green's installation, "1954", will feature footage of Queen Elizabeth's January 1954 visit to Dunedin, shot by members of the Otago Cine Club on 8mm and 16mm cameras.
Provided by the Film Heritage Trust, the footage shows the excitement that enveloped the city during the visit. Members of the public crowd The Queen's car at Forbury Park, run from one vantage point to the next, and wave flags as she appears on the balcony of the Law Courts Hotel, where she and Prince Philip stayed.
"There's so much enthusiasm," Green says, watching the flickering images on his computer screen at the Dunedin School of Art.
"You've got Union Jacks everywhere ... the decorations are crazy, over-the-top ... and you can just feel the adrenaline."
Those visiting the installation will have a less complete view, thanks to what Green calls an experiment in "disarticulated cinema".
In a deliberate move to encourage viewers to engage with the images, he is enlarging and splitting them up — the complete opposite of what happens in the film industry where he says "every pixel is dealt to".
Traditional cinema and advertising like to assemble loose "evidence" into a very particular linear story, he explains. The director controls everything, from who we look at to the length of the shot. And once presented with a particular story construction, it becomes difficult to change the way we think about it.
In his installation, fragments of film will be scattered around the venue, in much the same way that people would see "a little bit of this and a snippet of that" if they were at an actual event. And the images will be distorted with the use of glass that has been shaped in a kiln, requiring viewers to interpret what is going on.
Green hopes this will enable them to think about things from another point of view, while calling upon their own experience, imagination and memory. He describes it as taking the "fascist" out of cinema.
"You have these two divergent ideas. One is the idea that the artist is the creator and delivers to you their view and that's very much the way film works ... It's a tightly-controlled and crafted message. What I wanted to do is let the viewer engage with what they see ... so they have their own thoughts, they're pulling from their own memories and they're actually completing the work."
In his case, seeing the patriotic fervour in the films had caused him to reflect on how culture and economics are closely linked and made him consider the cultural implications of China, not England, being New Zealand's biggest trade partner in the future.
"That's not an anti-Chinese comment. It's more a question about the fluidity of culture ..."
Before moving to New Zealand almost 30 years ago, the former American worked in a New York production facility doing motion control work and opening sequences for films such as Predator and Blue Steel.He also directed television commercials and continued that work here. Projects with Animation Research brought him to Dunedin and he later took a job at the Otago Polytechnic lecturing in photography and electronic arts.
The Queen's 1954 tour was a "very exciting" event at the time because the coronation had happened only six months before, about the same time that Edmund Hilary conquered Everest, he says.
During their three days in Dunedin, The Queen and Prince Philip took part in many "drive-bys" and other events. However, the most interesting footage for him was of people gathering at points around the city to see the royals. The suspense was palpable and there were many shots of "normative people acting in non-normative ways", for example, climbing the Robbie Burns statue and Cargill's monument in The Exchange.
Embedded within these wide shots were little "bits of behaviour" — a boy sitting on a roof, swinging his legs back and forth while he waited; a family walking down the street with their children: "It's very intimate and really weird that a moment in those people's lives would be captured like that, buried inside this buzzing [scene]."
New Zealanders' lives and world-views 64 years ago were quite different to today, he added.
A documentary made about the visit referred to a "ladies club" arranging flowers for an event and a "businessmen's club" paying for a dinner: "It was very gender based and very rigid in terms of what you could possibly look like. There wasn't a lot of diversity."
It was a time when New Zealand had strong ties to England "so the newly-coronated queen coming here was like heaven on earth".
"Also what you see is a Dunedin that's almost unrecognisable. There is so little left of the architecture that existed in 1954, especially in the main town area."
The installation
• The "1954" installation will be held in a vacant shop at 165 George St that, at the time of The Queen's visit, was the premises of Dreaver's Milliners. Across the street from Farmers, the installation will be open from December 7-17 between 11am and 2pm.