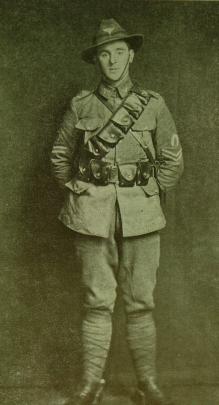 It's 100 years since Otago men mounted to charge the German lines, Sean Brosnahan writes.
This month WW100 programmes around New Zealand commemorate the Battle of Messines.
At 3.10am on June 7, 1917, 19 huge mines were detonated under the German lines along the Messines Ridge in Flanders. It was the opening salvo of a huge, long-planned, and brilliantly co-ordinated British attack.
The New Zealand Division was at the centre of the action, their objective the ruined village of Messines itself. Following the deadly explosions, the 1st Otago Battalion surged forward from its trenches and advanced up the slope beneath Messines. 
Crossing no man's land in minutes, by 7am New Zealand units had cleared the village in the most successful British attack of the war to that date.
Once the farthest point - the so-called Black Line - had been reached, Anzac troops began digging in around Messines.
It was now the turn of mounted patrols to move forward and reconnoitre no man's land towards German defensive positions over the ridge.
This included a squadron from the Otago Mounted Rifles. Their exploits that afternoon at Messines proved memorable: it was the only time in the 90-year history of the regiment that Otago's mounted soldiers ever charged hostile positions on their horses.
The late Dr Don Mackay, historian of the Otago Mounted Rifles, sought to immortalise the regiment's charge at Messines with the painting by the official New Zealand Army artist Captain Matt Gauldie.
Captain Gauldie took pains to anchor his work in the details of actual events on June 7, 1917.
The four troopers he depicts galloping out under German fire are based on real characters: Trooper Willy Hornell, Lieutenant Edwin Wells, Farrier Corporal Jimmy Jack and Trooper Fred Naylor.
Naylor recalled the madcap exploit in old age:  ''Talk about the charge of the Light Brigade. The infantry said we were mad, and by Jove we were! We charged over barbed wire entanglements, over trenches, and what good we did, well, I don't know, we got a few men and a few horses killed.''
In fact, while Jimmy Jack was mortally wounded and six other troopers wounded, and eight horses killed and 32 injured, the OMR men got off lightly for the risks that were taken.
- Sean Brosnahan is a Toitu Otago Settlers Museum curator.
The painting
• The Attack of the Otago Mounted Rifles at Messines, June 7, 1917, by Matt Gauldie, will be on display in the "Call to Arms" display at Toitu through June, on loan from the D. C. Mackay Trust.