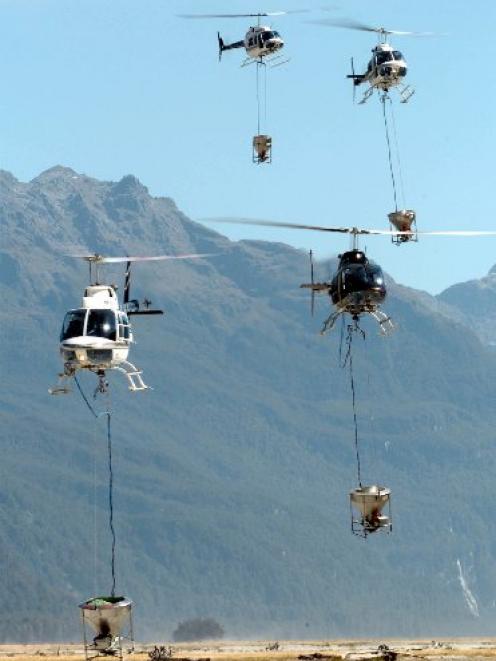 New Zealand expertise with poisons has put conservationists here in the middle of a debate in America, Andrew Stone, of the New Zealand Herald, reports.
The Department of Conservation has been dragged into a row over a plan to drop poison from helicopters to kill mice on protected islands 50km offshore from San Francisco.
Aerial poison drops were pioneered by a little-known agency within the department, the Island Eradication Advisory Group.
It has been involved in killing pests using the poison brodifacoum on New Zealand islands, and provided advice and a Doc employee for an eradication project on Rat Island in Alaska.
The aerial method using helicopters has become standard pest-control practice in remote places, though critics say it leads to deaths of non-target species and frequently fails to wipe out rats or mice.
The California project targets the Farallon Islands, a US national wildlife refuge and home to one of America's largest seabird breeding colonies.
But opposition is growing to the US Fish and Wildlife Service plan to use 1.3 tonnes of brodifacoum against mice, partly fuelled by images on the Huffington Post website of dead native birds and penguins filmed after Doc poison campaigns in New Zealand.
One of the clips shows penguins collected from near Rangitoto Island after Doc dumped tonnes of poison bait on it and neighbouring Motutapu Island in 2009 to kill possums and rodents.
A Doc officer who was with the Island Eradication Advisory Group and played a leading role in the Rangitoto project, Richard Griffiths, now has a senior role with US-based Island Conservation, which stands to win the Farallon contract.
Opponents of the Farallon plan have also highlighted failures with the Rat Island work.
A critical review found 46 bald eagles, one of America's most treasured birds, died during or after the programme. The US Ornithological Council blamed brodifacoum.
Hundreds of seabirds also died, from eating bait or rats or other birds exposed to bait.
Though widely used for pest control in New Zealand, by Doc and many councils, brodifacoum was recently banned for the consumer market by the California Department of Pesticide Regulation.
The California state legislature is considering a ban on such ''anticoagulant rodenticides'' in any state/national park, state or federal wildlife refuge, or state conservancy.
Island Conservation is seeking an exemption that would permit the use of brodifacoum on the Farallons.
The proposed aerial operation coincides with preparations in New Zealand for the largest-ever drop of 1080 bait on South Island forests to attack an expected surge in rodents.
San Francisco environmental activist and writer Maggie Sergio said she attended a workshop where US Fish and Wildlife staff referred to New Zealand's Department of Conservation as having expertise in eradicating non-native species from islands.
This year, after she wrote a critical blog about the Farallons project on the Huffington Post website she was contacted by New Zealand opponents of Doc's poisoning campaigns.
One was Bill Benfield, a retired Wairarapa winemaker, who runs a website dedicated to the protection of kea, the native alpine parrot.
Mr Benfield, author of a book fiercely critical of Doc's poison methods, said island pest eradication projects were very expensive, resulted in the death of birdlife and were often unsuccessful.
He sent Ms Sergio a New Zealand study which reviewed baiting operations and found that 17 attempts on 45 islands worldwide failed.
Armed with material from Mr Benfield, Ms Sergio has teamed with the Animal Legal Defence Fund and has filed a freedom of information request for details about the relationship between Island Conservation and the US wildlife service.
She says a consistent theme in selling island eradication projects was claims of an environmental crisis, ''plague-like'' mice numbers and the emotional pitch of saving species from extinction.
In her blog, Ms Sergio wrote: ''Lurking in the background is usually New Zealand's Department of Conservation and its Island Eradication Advisory Service Group selling a variety of consulting services, including the bait and helicopter pilots.''
The chairman of the advisory group, Keith Broome, said it was not involved in the Farallon project.
It did not charge for advice, and did not provide bait or helicopters.
Group members had acquired a high level of expertise and advice was sought from around the world. But its core work was supporting Doc operations, such as making Rangitoto and Motutapu pest-free.
Island Conservation's director of philanthropy and communications, Heath Packard, said his organisation often referred to the ''pioneering work'' Doc had done on island pest removal, but had no formal relationship with the department.
''New Zealand stands out for the breadth, scope and history of its efforts to mitigate invasive impacts,'' he said.
He said the Alaskan project had succeeded. The island was free of rats and seabirds were thriving.