When World War 1 broke out in 1914, Scottish organisations all over New Zealand petitioned the government to form a Scottish kilted unit as part of the New Zealand Expeditionary Force. But the government wanted a single national identity for the force, albeit with the exception of a Maori contingent.
The Scottish societies had to be content with equipping the NZEF's infantry battalions with bagpipes for their numerous bands. The calls for a kilted army unit persisted between the wars, however, and were finally rewarded in 1939, when a New Zealand Scottish Regiment was created as part of the Territorial Army.
It was to consist of four companies of 125 men each, based in Auckland, Wellington, Christchurch and Dunedin, each recruit requiring a Scottish grandparent to qualify.
The Scottish societies subsidised the purchase of kilts, formal affiliation with the famed Black Watch Regiment was secured, and a Gaelic motto was adopted: "Mo Righ, Mo Dhuthaich" (My King, My Country).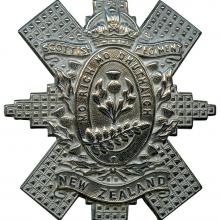 The Scottish Regiment never made it overseas during World War 2 although many of its members did, passing on from the Territorials into the 2nd New Zealand Expeditionary Force. A good number never returned, their names now commemorated on the Regiment's Roll of Honour.
Postwar, it went into abeyance for a time and was then reformed and converted into an Armoured Corp unit, with a squadron in each of the four main centres. Hundreds of men went through the New Zealand Scottish Regiment in this era and a strong esprit de corps developed around its Scottish identity, particularly in Dunedin and Auckland.
However, with constant Army restructuring, the fortunes of the regiment waned until eventually, in 2016, it was formally disbanded and its ceremonial Colours laid up at Toitu Otago Settlers Museum.
The Colours are now undergoing expert conservation treatment but other items associated with the New Zealand Scots are now on display in Toitu's "Call to Arms" display.
 - Sean Brosnahan is curator, Toitu Otago Settlers Museum.