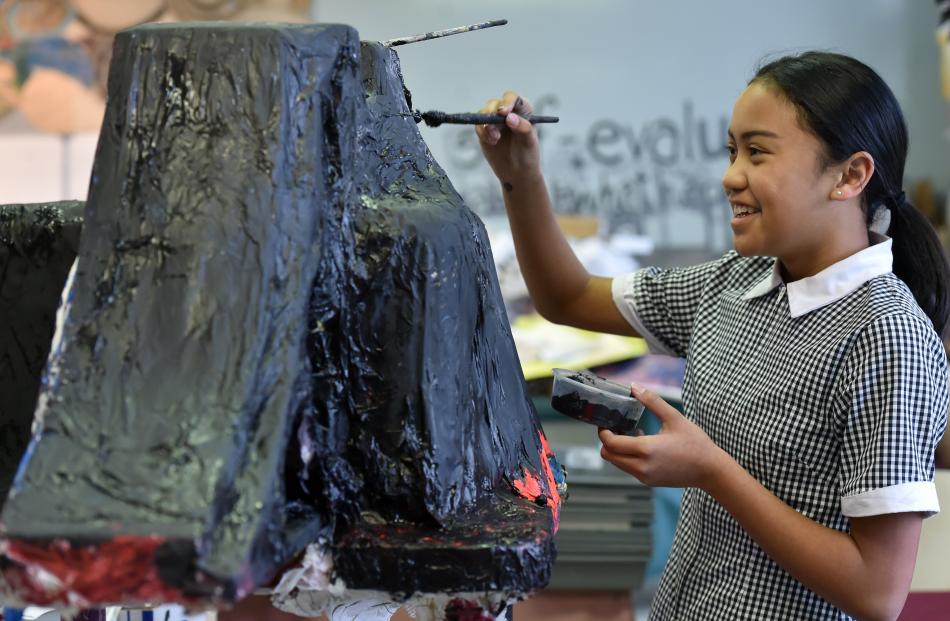 This week Bathgate Park School will be the first New Zealand school to join an international network of pupil-run art studio spaces. Dunedin artist Janet de Wagt tells Rebecca Fox about Room 13.
Skateboard parks, Maori pa, book trees and imaginary worlds created from repurposed and found material line Bathgate Park School's halls, creating the feel of walking through an exhibition.
The strong art focus carried over from Macandrew Intermediate and Forbury Park schools when they amalgamated is about to get stronger.The school's artist in residence, Janet de Wagt, has built on this foundation and on Friday the school will open its "Room 13: Bathgate Park School''.
In doing so, it will officially join a worldwide network of children's "Room 13'' art studios designed  to encourage artists of all ages to be creative and  think for themselves.
"This exciting development is the result of years of work and interest in the arts in the school,'' de Wagt says.
Pupil Merle Talalima-Wineti (12) is excited about the opportunities Room 13 will give them.
"It will give me more of a chance to focus on my art work. I really want to be an artist so I'm looking forward to it.''
The school already uses the space for art classes with de Wagt, who was artist in residence at Macandrew Intermediate and is now  employed two days a week to support pupils and teachers in creative projects;  which explains why Bathgate's halls are lined with a variety of 3-D works and sculpture rather than paintings.
Pupils create these works from anything they can find and repurpose — from plastic containers, old vacuum-cleaner pipes, cardboard boxes, wallpaper, bottletops and more.
"It is a natural progression from this growth in knowledge, skill and interest to the ideals and values of Room 13,'' de Wagt says.
The Room 13  initiative means pupils will be able to  go to the studio at any time, around their classes, to create and be supported by the  artist in residence.
"Everybody will have a chance to be creative. It is their space.''
The idea is for pupils to have the freedom to pursue their own interests;  the room provides the resources and support needed to realise their vision.
"This very simple idea has been embraced by people all over the world, giving rise to a movement that places art and creativity at the heart of learning.''
Each Room 13 is run as a business by the pupils, generating income to pay for art materials and equipment. The pupils will also be required to plan and write up proposals on their ideas outlining the materials and other resources needed.
"It will be driven by them.''
All sorts of different art mediums,  including film, can be explored  in the space, de Wagt says.
Through technology, such as Facebook and video, pupils can link with young people in other Room 13s around the world to share ideas and projects.
The Room 13 concept developed when pupils at Caol  Primary School, near Fort William, in Scotland, established  an art studio in 1994. They ran the studio as a business, raising funds to buy art materials and employ a professional artist in residence to work with them.
Since then it has become an official charity and grown into a network of about 60 studios around the world; Bathgate Park School will be New Zealand's first.
Each studio takes on the Room 13 banner plus the group's name. Room 13 studios claim to have a "proven record of keeping young people engaged in education and are recognised as a means of addressing some of the most compelling problems facing young people, schools and society''.
Pupils taking part in the studios participate in exhibitions, commissions, residencies and collaborative work; and in presentations, films, radio programmes, publications and other media work.