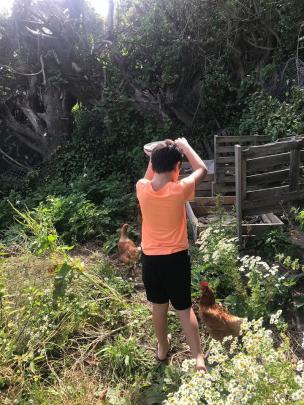 A few weeks of annual leave is usually a ticket to see the world. Peter Dowden describes how, on his last holiday, the world came to him.
We've done more than our fair share of travelling over the years, having circumnavigated the planet an aggregated equivalent of four and a-half times. It feels like it must be time to stop consuming the limited capacity of Earth to recover from our indulgences so that others may have their turn.
When family came for a visit from overseas, the chance arose to show a couple of mokopuna around their ancestral city. We had ceased to be explorers ourselves, choosing to become welcoming natives.
Our accommodation was, of course, our family house, but converted to holiday mode with extra mattresses and couches pushed in to service. This gives a cosy camping atmosphere achievable in any tent but kinder to ageing spines. Being thrown together in a fairly small house provides the same occasion of bonding that travel can offer. In the negotiations for confined space, queues for the loo and the organising of shared meals, long-separated family members get together, get along and get to know each other again.
Dunedin provides a great base for family reunions. Any city that aspires to become a great city to visit must first become a great city to live in, and Dunedin performs well on both measures. As with life, the best things in Dunedin are free. We didn't make this the rule of our city holiday, but if a visitor only limited themselves to free stuff, there would still be a good week or two of activity to be had.
Our first outing was to the playground in St Kilda, officially called Marlow Park, but everyone calls it the "dinosaur park". All parks need a theme and this one is nearly as good as Jurassic Park but safer, cheaper and with shorter queues. The kids enjoyed the tunnel pipe mountain and the green dinosaur slide.
The Water of Leith, after many decades as a sort of concrete town sewer, now has numerous access points via steps and ramps to small shingle beaches throughout North Dunedin. These are great places to paddle and play and there is ample material for small people to think big with hydraulic engineering: dams, flood channels, pools and spillways were built for the next spate to tidy away.
Feeding the ducks at Dunedin Botanic Garden will never go out of fashion.
With bread strictly banned as it upsets the birds' tummies, feeding begins with asking at the visitor centre for duck feed. This provides an opportunity for grandparents to dabble in a bit of compulsory manners training for the littlies.
The flying fox at Woodhaugh Gardens had been greatly improved by another enterprising and inventive burgher who had dragged a nearby picnic table to the top end of the cable, allowing children to readily gain the height needed for a good flight.
The paddling pool was a bit beneath our kids' grade, but the local toddlers were having a great time. Sliding down the concrete weir in the Water of Leith might have to wait for their next visit. The forest here has a labyrinth of curved tracks which are fun and safe to explore.
Jumping on to a bus is a good way to pass the time and provide respite between bouts of more vigorous exploring. Modern children are happy to look at a rectangular screen of moving images, and a bus window provides an acceptable substitute. The ticket costs build up a bit for a family group, so we learned to ensure our bus cards were amply loaded when setting off.
Baldwin St, still the world's steepest street without resorting to measuring the inside of hairpin bends, provides the necessary amount of exertion to make kids settle down at night. This is an important consideration for grandparents. The drinking fountain at the top provides a small reward to those who reach the summit.
Brighton might have the most family-friendly beach in Dunedin as it provides a selection of different bathing opportunities: exciting surf, warm pools to bask in on the falling tide and a shallow creek (with hydro engineering opportunities) flowing over the fine sand. We also enjoyed a chance encounter (at a safe distance) with a local seal, and a fish and chips picnic.
Toitu Otago Settlers Museum was a great rainy day visit, the kids loved the trolleybus simulator and the hall of mirrors provided with Victorian dress-up costumes to try on under the admiring gaze and cellphone cameras of doting adults.
Holidays are for making memories, for building relationships, for relaxing and for family time. These things can happen anywhere, so it follows that they can also happen at home. Reuniting families seems a more worthy use of Earth's atmosphere than some other travel indulgences. It was nice to imagine that our flight abstinence enabled our visitors to visit us. At the end of their stay we took them to the airport where the parking machine provided the last word: "Change is possible."
If you stay
Let go of your job. Resist the temptation to browse emails, pop in to the office "just for a minute" when going past or contacting colleagues about something they need to get done in your absence.
You don't have to tell people you are still in town.
You only have to repaint the house if you really want to, because it's a holiday.