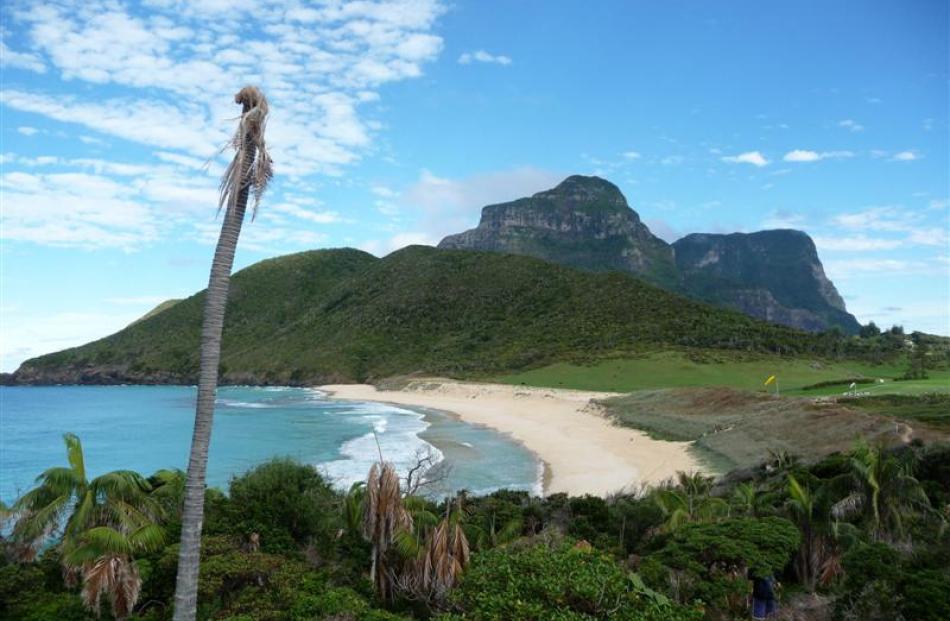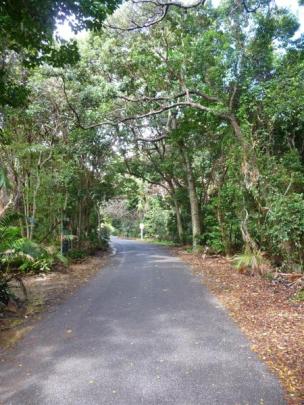 Relatively few people go to Lord Howe Island, which is no bad thing, writes Clare Gleeson.
''You're going where?'' friends asked when I said we were having a few days on Lord Howe Island.
Few people seemed to have heard of it, which is not surprising, as only 400 visitors are permitted on the Unesco site at any time.
That means that in summer, tourists outnumber residents.
Our host, Gary, whose family has been on the island for more than 100 years, met us at the airport and, in the slow drawl of the Lord Howe Islander, filled us in on the island's economy as we drove to the Beachcomber Lodge.
Kentia palms are everywhere on Lord Howe.
Native to the island, they are popular worldwide as ornamental garden and house plants.
Until recently they were a good source of income for the island, but other countries have started growing them and today the island is almost totally dependent on tourism.
Lord Howe is quiet.
There is no cellphone coverage and Wi-Fi is very limited.
There is no night life, although all accommodation providers offer a shuttle service to the restaurants and the restaurants take you home.
Lord Howe's big attraction is its natural environment: the travel-brochure beaches, coral reef, volcanic cliffs, nature walks and many indigenous birds, fish and plants.
There are lots of water activities and, keen to snorkel the reef, we chose Environmental Tours, which took us out on a glass-bottom boat and provided snorkelling.
As we headed out to the reef our captain, Ken, kept up a constant patter of information and anecdotes, most of which seemed to be at the expense of the coral on the Great Barrier Reef.
According to Ken, although it has more variety, it is less healthy than the coral around Lord Howe.
The sea was warm and clear as we slipped in, the reef buzzing with life.
Brightly coloured fish shimmered in and out of multi-coloured, swaying coral forests; sea urchins, clams and other shellfish nestled in the sand.
A striped snake eel gave me a start and, as Ken had warned, a small shark hovered.
On the trip back I chatted to a woman who had visited before and was keen to advise on the island's attractions.
There are lots of walks on the island and I mentioned we had considered climbing the 875m Mt Gower.
''The only people who climb Mt Gower are over 55 so they've got nothing to lose,'' she said.
I decided we would climb to Goat House Cave on Mt Lidgard instead.
The first half hour up Mt Lidgard was gentle walking through rainforest followed by a sharp ascent to Goat House Cave.
Ropes have been installed to help with the final part of the climb and a middle-aged gent was descending as we neared the first rope.
Dapper in his khaki shirt and trousers, bush hat, binoculars and backpack, this indefatigable explorer looked more like a sloth than David Attenborough hanging off one of the ropes.
''Is this the last one?'' he managed to ask.
I was determined to do better than that.
The wet leaves and tree roots made the track tricky but we soon learned to rely on the ropes as we looked for a foothold.
The final climb was over volcanic rock and then we were above the tree line, with the northern part of the island below us.
We relaxed on a lower ledge, munching our lunch and enjoying the view of the lush green island, ringed by golden sand and the blue Pacific.
Martin spent a day on a fishing charter around Ball's Pyramid, the tallest volcanic stack in the world and home to the Lord Howe stick insect, thought until recently to be extinct.
It was a successful day because he caught two fish, or, more correctly, one fish and one fish's head. He and a shark had competed for the second as he landed it. Pleased with the size of his intact fish, he showed the photo to our laconic host.
''Gee, it's just a tiddler,'' Gary said.
Bicycles are the main form of transport on Lord Howe and we hired some at the beginning of our stay, enjoying whizzing along the almost car-free roads.
Crime seems unknown.
Bikes are left everywhere unattended and there are no locks on hotel rooms.
An honesty system operates for club hire at the golf club and for snorkels and flippers at Ned's Beach.
Wheeling along with no cars on the road, the sun shining, the native birds singing and the palm trees whispering, I thought it was a good thing that more people do not know about Lord Howe.
• Clare Gleeson is a Wellington-based historian and a traveller.