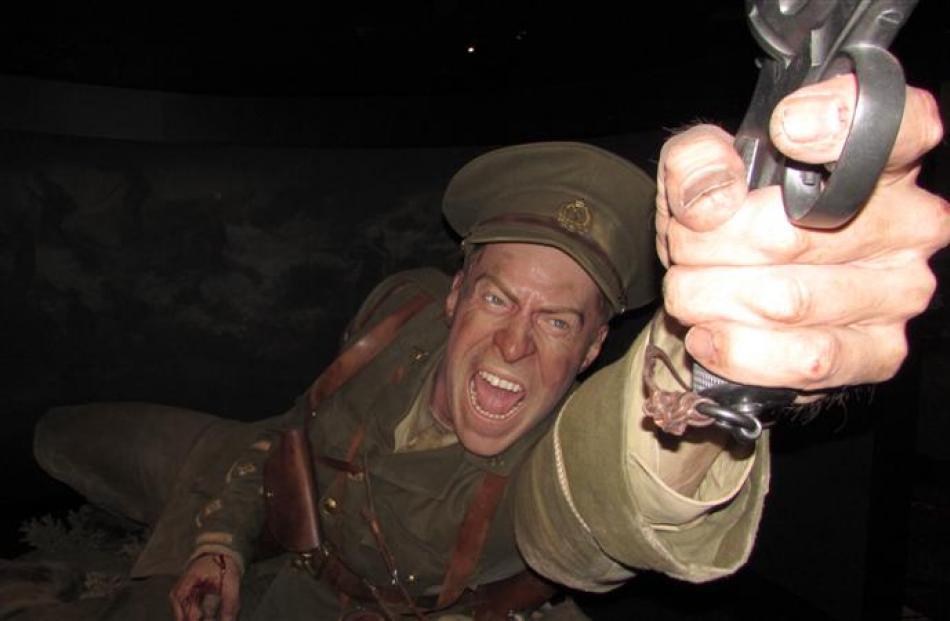 The dramatic realism of Te Papa's latest exhibition is extraordinary and exciting, but then it hits you.
The eight 2.4-scale sculptures of New Zealand World War 1 figures are not simply installations, they are a window into the past on a dramatic scale.
The figures are striking not only for their realism but the pain and despair of their background stories. These are real people; some of whom died and some lived, but all were affected by the tragedy of war.
''Gallipoli: The scale of our war'' has cemented Wellington's place as the country's unofficial capital of Anzac commemorations.
The $8 million exhibition is the centrepiece of Wellington's World War 1 commemorations and will run for four years, free to the public.
Exhibition creative director and Weta Workshop founder Sir Richard Taylor says the sculptures and their stories are enough to move people to tears.
The sculptures are accompanied by transcripts of personalities' diaries and each area of the exhibition is served by its own soundtrack performed by the New Zealand Symphony Orchestra.
Sir Richard said the emotionally draining nature of the exhibition had taken its toll.
No story was more sapping than that of Pte John Robert Dunn.
Pte Dunn became ill while serving at Gallipoli. He returned to duty while still unwell and fell asleep at his post. He was then court-marshalled and sentenced to death. He was sent to the front line and died in the attack on Chunuk Bair.
Te Papa's exhibition is not the only jewel in Wellington's World War 1 crown.
The Great War Exhibition at Wellington's Dominion Museum building provides a feel for life at the front line.
Created by Sir Peter Jackson, the exhibition is the story of life in the trenches and will soon feature the smell of life in the trenches, including the odour of death and decay.
Sir Peter says the exhibition, which will also run for four years, does not hold back and the reality of war is paramount.
Other highlights include film loops which light up the Dominion Museum and Carillon at Pukeahu National War Memorial Park at night.
The exhibition ''WW1 in Watercolours'' also portrays the best of World War 1-era watercolour art at the Wellington Cathedral of St Paul and runs until May 3.
• Tim Brown travelled to Wellington courtesy of Positively Wellington Tourism
---
See it
• ''Gallipoli: The scale of our war'', Te Papa
• ''The Great War Exhibition'', Wellington's Dominion Museum building
• ''WW1 in Watercolours'', Wellington Cathedral of St Paul
---